Group Tours at The Durham Museum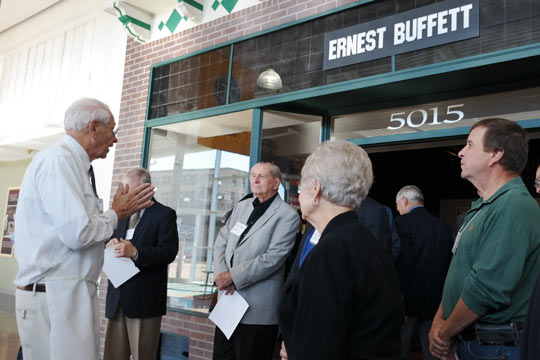 Is your group looking for a social or team building opportunity? Guided tours of the museum and/or our nationally traveling exhibitions are the perfect way to celebrate with a group or get to know the city of Omaha! Whether you're interested in learning about Union Station's one-of-a-kind Art Deco architecture or grounding yourself in Omaha's early history, your group is sure to have a fun (and dare we say educational) experience together at The Durham.
Tours or self-guided experiences are great for:
Corporate team-building
Birthdays celebrations
Onboarding for new employees
Guilds or church circles
Family or class reunions
College or other academic organizations
Tour groups are welcome daily during regular museum hours. Please note: Groups must include 10 or more participants and must pay as a group to receive the group rate. For us to provide you the best museum experience possible, we kindly ask that your request be completed at least TWO WEEKS prior to the anticipated visit date.
---
Self-guided Group Tours
$11 (Plus tax) per guest for groups of 10 or more
Self-guided groups will receive a short overview of the museum before setting out to explore on your own.
---
enhanced guided GROUP Tours
$13 (Plus tax) per guest for groups of 10 or more
Get to know the museum with a tour experience that offers interesting facts and in-depth explanations of our local history! Groups will be paired with one of our talented docents or education staff members for a remarkable one-hour tour, but are welcome to continue enjoying the museum following the tour.
Union Station guided Tour
Did you know that Omaha's Union Station had a barber shop and a restaurant? Enjoy an in-depth guided tour, learning the ins and outs of this National Historic Landmarks' time as a train station.
Trans-Mississippi & International Exposition Guided Tour
Did you know that the city hosted a world's fair attracting 2.5 million people to visit in 1898 in a matter of only a few months? Explore this incredible event with photos and a special look at a few of the museum's 120-year-old Trans-Miss artifacts!
Traveling Exhibition Guided Tour
Tours are typically available for temporary exhibitions. To view a complete traveling exhibits schedule visit the Current Exhibits page and Upcoming Exhibits page.
Save
Save
Save
*Group tours require a reservation. Please note – this reservation form is for Adult Group Tours. To book a Student Field Trip click here.
QUESTIONS? Please contact the Education Department at 402-444-5027 or email education@DurhamMuseum.org.

DIRECTIONS/LOCATION IN OMAHA
The Durham Museum is located just south of Omaha's Historic Old Market at 801 South 10th Street. Situated on the 10th Street Bridge, the museum can be accessed from both 10th Street and Leavenworth Street. The museum has a two-level parking deck that is FREE to all visitors. Tour bus parking is available free of charge along the 10th Street Bridge.