Calendar
Find the activities and exhibits that interest YOU – search the calendar by Category or Tag!

Jan
19
Sat
Airmail in Omaha
Jan 19 @ 10:00 am – 5:00 pm
AIRMAIL IN OMAHA
NOW – JANUARY 2019
The United States Postal Service is celebrating the 100th anniversary of air mail service and Omaha was a midway stop along the route. Pilots flew in teams to relay mail across the country for round-the-clock service. Before mail took flight it was sent by train and going airborne sped up the process of delivery by nearly a full day! Photographs from The Durham's Photo Archive will showcase our city's role in completing the transcontinental mail service.
Building the City: The First Mayors of Omaha
Jan 19 @ 10:00 am – 5:00 pm
BUILDING THE CITY: THE FIRST MAYORS OF OMAHA
September 15, 2018 – JANUARY 20, 2019
Jesse Low, Andrew Jackson Poppleton and George Armstrong were among the first Mayors of Omaha and set the city on the path to what it is today. This exhibit uses objects from the Byron Reed Collection to highlight the major struggles of their careers, from gaining the necessary funds to build the original capitol building, to managing the claims club, to gaining land grants to ensure the growth of the city.
Fighting for the Good Life: Nebraskan Memories of World War I
Jan 19 @ 10:00 am – 5:00 pm
FIGHTING FOR THE GOOD LIFE: NEBRASKAN MEMORIES OF WORLD WAR I
AUGUST 18, 2018 – JANUARY 27, 2019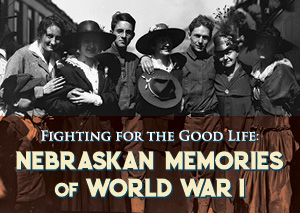 World War I was the first truly global conflict of the 20th century. From 1917-18, citizens around the country rallied to the call for service; men took up arms, women trained as field nurses and children led scrap drives. Using objects received during a community crowdsourcing campaign, this exhibition focuses on The North Omaha Balloon School, Women in the War, Life on the Frontlines, Homefront Activities, and the Presence of the Past, how the Great War is memorialized publicly and remembered privately by families. Explore the stories of individuals, like Central High School graduate and YMCA volunteer Marion Crandell who was the first American woman killed in action and aviator Jarvis Offutt, the namesake of the local Offutt Air Force Base. Visitors may also read from personal accounts written by soldiers on the frontlines, see art made from artillery shells, and play patriotic piano music from the era.