Digital Learning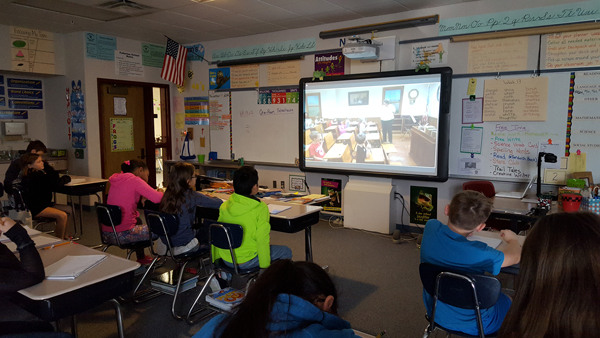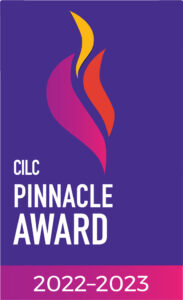 The Durham Museum's award-winning digital learning program offers unique opportunities to learners of all ages. Taught by museum educators, these engaging and interactive classes following national and state Social Studies standards and feature artifacts, photographs, and a live look at the museum's exhibitions and displays.
The Durham Museum is honored to be a recipient of the 2022-23 CILC Pinnacle Award. The award is bestowed annually to Center for Interactive Learning and Collaboration content providers for their accomplishments in creating live virtual field trips that have high educational value, actively involve learners and are professionally delivered.
Museum live!
weekly digital learning sessions

Professor Durham is back! Welcome to Season 4!

Each week, during the school year, Museum Live brings 30 minutes of interactive and engaging content straight to your home or classroom. This broadcast-style show includes segments featuring guest speakers from our Smithsonian network, a behind-the-scenes look at museum exhibits and artifacts, cultural connections to the community, and even currents events. Plus, teachers and parents will receive a follow-up activity after each session. Join us week after week for new content, submit questions or topic ideas, and even have a chance for one of your students to join us live! This program is sure to become the highlight of your week.
MUSEUM LIVE! CALENDAR OF EVENTS
(Click on the dates below to view the weekly themes. January-May themes will be announced at a later date.) 
CAN'T JOIN US FOR A LIVESTREAM?
Watch previous episodes at your own convenience. Fill out this quick form to view archived episodes.

virtual field trips
Virtual field trips can be scheduled at a date and time of your choosing. Each session lasts 30 minutes and repeat sessions are encouraged! Each virtual field trip also includes a curriculum guide with standards, recommended resources and pre-visit and post-visit activities. All digital learning programs are provided at no cost thanks to our generous museum supporters and underwriters. You can help us continue making these opportunities possible by becoming a member or supporting our annual fund today!
---
All Aboard (Recommended for Grades K-5)
Hop aboard our passengers cars, steam engine and caboose for an authentic look at train travel and how it shaped our country! This class includes an authentic 1950's video that will show students what it was really like to travel during this incredible time in history.
---
Building of the Transcontinental Railroad (Recommended for Grades 4-8)
You may think you know everything there is to know about this important advancement in transportation, but we are here to give you a top five list of little known facts! Hear about successes, blunders and the characters involved in the 6-year project that helped to shape the west! Artifacts and photos help this session bring the Transcontinental Railroad to life!
---
early omaha (Recommended for Grades 2-5)
Ever wonder how Omaha got its roots? Learn about William D. Brown, Native American life and the struggles families faced in the early years of the city. Explore what it took for families like the Creighton's and Dodge's to establish the city's first fire department, police unit and a public-school system.
---
Historic schoolroom (Recommended for Grades K-5)
Step back to the 1890's and see how different it was to attend a one-room school! Explore daily life from this time period through artifacts, stories, and reciting real lessons students did in their classroom. Who will be the spelling bee champion or have the best penmanship? Students will also compare their visit to what they experience in classrooms today.
---
Native american life (Recommended for Grades 2-8)
Explore the life of the Plains Indians tribes. Enter the Durham Museum's tipi and earth lodge to interact with Native American artifacts and meet Scout, our resident buffalo. Learn how the Native Americans used the resources around them throughout the centuries.
---
Neighborhood Store (Recommended for Grades k-5)
Bring your shopping list along as we take a trip back to the time of streetcars and neighborhood grocery stores. Visit the museum's Buffett Grocery Store exhibit and discover the fun of shopping for penny candy. Also learn how small grocery stories played an integral role in Omaha communities.
---
Omaha's world's fair (Recommended for Grades K-5)
What do Paris, Chicago, and London have in common with Omaha, Nebraska? They all hosted huge expositions many years ago that brought millions of visitors and put their cities "on the map". Join us for a tour of a model, photographs, and artifacts from the Trans-Mississippi & International Exposition (a.k.a. Omaha's "World's Fair").
---
Omaha Homes and Families (Recommended for Grades K-5)
Learn how people from all over the world lived as they came to Omaha to start a new life. From Omaha's important immigration history to the homes they lived in, see how life changed for residents throughout Omaha's past.
---
On the Trail with Lewis and Clark (Recommended for Grades 2-5)
Join the expedition! Learn about Meriwether Lewis & William Clark's journey through the untamed Louisiana Purchase. Explore the Corps of Discovery's three important goals as they experienced the land that is now Nebraska and beyond.
---
pioneer life (Recommended for Grades K-5)
Visit our log cabin and experience the life of a Great Plains pioneer. Students will take part in a "choose your adventure" session where they will have to make the tough choices the pioneers had to make as they prepared to travel west and build a new life!
---
union station – omaha's art deco gem (Recommended for Grades 2-8)
Experience Omaha's Union Station, a world-renowned example of Art Deco Architecture and one of the newly crowned National Historic Landmarks. Built in 1931, Union Station's style represents the power, strength and masculinity of the railroad industry it housed. This session will allow students to explore the history of the building as well as the intricate details that make up this specific architectural style, complete with a "visit" from some special guests who would have traveled through the station throughout its history.