Hitchcock Museum Shop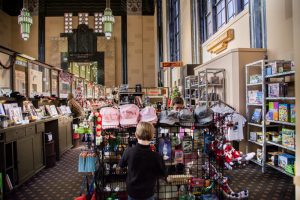 Located in Union Station's original ticket office, The Gilbert M. & Martha H. Hitchcock Museum Shop offers a delightful shopping experience! Discover railroad memorabilia, children's educational books and games and one-of-a-kind items from local artisans. You are sure to find that perfect gift for the history buff on your shopping list! Proceeds from your purchase go toward the support of museum programs.
Members receive 10% off Museum Shop purchases.
TEMPORARY SCHEDULE CHANGE
Planning a visit to The Durham in October? We have a few changes to be aware of. The Soda Fountain and Museum Shop will have reduced hours for the next three weeks as we make some enhancements in preparation for the holidays and train staff. We apologize for any inconvenience this may cause and thank you in advance for your understanding.
Reduced Hours in the Soda Fountain and Museum Shop:
• The Soda Fountain will be open Friday, Saturday and Sunday ONLY (October 5-24).
• The Museum Shop will have reduced hours on Tuesday, Wednesday and Thursday (Noon-4PM).