Hitchcock Museum Shop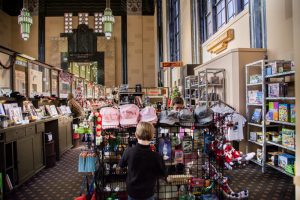 Located in Union Station's original ticket office, The Gilbert M. & Martha H. Hitchcock Museum Shop offers a delightful shopping experience! Discover railroad memorabilia, children's educational books and games and one-of-a-kind items from local artisans. You are sure to find that perfect gift for the history buff on your shopping list! Proceeds from your purchase go toward the support of museum programs.
Members receive 10% off Museum Shop purchases.
Sorry, due to LEGO® policy the museum is not able to offer Member Discounts on LEGO® merchandise.