upcoming Exhibits
---
Are you looking for the Dinosaur Revolution exhibition? Please view our current exhibits »
Dressing the Abbey


September 22, 2022 – January 8, 2023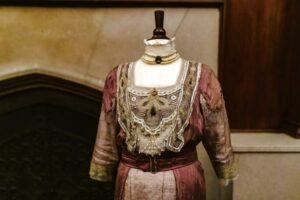 Dressing the Abbey is a costume exhibition which highlights fashion from one of the most widely watched television dramas in the world, Downton Abbey™. Experience original costumes worn by the stars of Downton Abbey that depict fashions of the British aristocracy in the early 20th century.  The exhibition showcases the turbulence and changes in the late Edwardian era through the 1920s through the fashions of the period while evoking fans' favorite moments.
The exhibition's award-winning costumes created for the British hit drama were produced by the London costume house of Cosprop Ltd. The costumes were created for the show's aristocratic Crawley family and their servants who inhabit the fictional English country estate of Downton Abbey. The costumes range from country tweeds and riding outfits; servants' uniforms and footmen's livery; to lavish evening attire crafted from sumptuous fabrics and decorated with intricate embroidery, lace, and beading. Dressing the Abbey weaves popular culture, fashion and history in an exhibition borrowed from Downton Abbey's™ wardrobe.
The exhibition is developed and distributed by Exhibits Development Group in cooperation with Cosprop Ltd., London, England. The exhibition is not endorsed by, sponsored by, licensed by, associated with, or otherwise affiliated with the television series Downton Abbey™, NBC Universal International, Carnival Film and Television Limited or their representatives.