Omaha uncovered: Revealing History through art and story

august 7 – november 21, 2021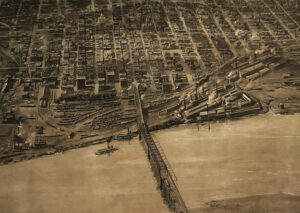 History is revealed to us in many ways. Artifacts, photographs and personal memories can help us make connections to our past. This fall, The Durham Museum presents "Omaha Uncovered: Revealing History through Art and Story", an exhibit focused on uncovering the vast and fascinating history of our city. The exhibition highlights both preservation and conservation, giving visitors an up-close look into how history can come to life. Over the course of four months, conservators from the Gerald R. Ford Conservation Center will be "on exhibit" actively restoring a historic mural from 1905 entitled "Aerial View of Omaha" that once hung in the lobby of the Omaha Bee newspaper office. The beautifully painted mural, which is part of the museum's permanent collection, looks west from the Missouri River towards the western horizon and elegantly captures the layout of the Omaha of the past and present. Lovers of maps, history and art will enjoy seeing the faded mural brought to new life over the duration of the project. Guests can also see preservation in action in our working lab of the Photo Archive. Museum staff will be in the exhibit actively digitizing historic photographs from the museum collection as well as highlighting stories of iconic Omaha photos through the personal memories of long-time Omaha resident and former museum employee/volunteer, Bill Gonzalez.
exhibit programming
Aug 17 @ 6:30 pm – 7:30 pm
6:30 pm
Join conservator Kenneth Bé in a preview of his work on Aerial View of Omaha. Bé will present information about the mural itself, its current condition and his plan for conserving the painting while on display in the coming months at the museum as a part of Omaha Uncovered: Revealing History through Art and Story. Bé is originally from the…
Continue Reading

Upcoming Exhibits
The Durham Museum

40 chances: finding hope in a hungry world

october 9, 2021 – January 9, 2022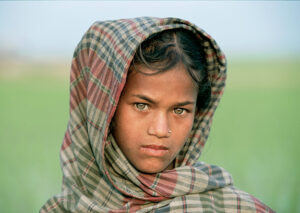 In this powerful exhibit featuring the photography of Howard G. Buffett, 40 photographs document the world hunger crisis as part of a global awareness campaign. Traveling to more than 137 countries, Buffett turned his camera lens on the powerful forces that fuel hunger and poverty. A philanthropist and farmer, Buffett believes that each of us has about 40 chances to accomplish our life goals, just as farmers have about 40 growing seasons to improve their harvests. His photography is a call to action to find lasting solutions to the world hunger crisis.
"40 CHANCES: Finding Hope in a Hungry World" was developed by the Newseum in collaboration with Howard G. Buffett Foundation. The Newseum is an affiliate of the Freedom Forum, whose mission is to foster First Amendment freedoms for all. 
The Howard G. Buffett Foundation is the exclusive sponsor of the "40 CHANCES: Finding Hope in a Hungry World" exhibit.