DESCENDANTS OF DeWITTY


FEBRUARY 4 – MAY 28, 2023
This 27-photo exhibition shares the history of the people of DeWitty, later known as Audacious, the largest and longest-lasting African American settlement in rural Nebraska. The settlers, including former slaves who had fled to Canada before the Civil War and their descendants, began to arrive in 1906-07, attracted by the 1904 Kinkaid Act's offer of 640 acres of free land in the Sandhills. The traveling gallery exhibit is on loan from the Descendants of DeWitty, NE organization.
THE LUNCHBOX: PACKED WITH POP CULTURE


MARCH 4 – SEPTEMBER 3, 2023
The Durham Museum is pleased to partner with local lunchbox collector Mark Kelehan to present The Lunchbox: Packed with Pop Culture. Featuring hundreds of lunchboxes as well as one-of-a-kind original paintings, the display provides an overview of the history of lunchboxes, insight into the production process and an educational introduction into the dynamic world of collecting. The Lunchbox demonstrates how lunchboxes are time capsules of American pop culture from the 1950s through the 1980s. Join us for a celebration of the lunchbox and enjoy a walk down memory lane!
TOWERS OF TOMORROW WITH LEGO® BRICKS


MAY 27 – SEPTEMBER 3, 2023
Towers of Tomorrow with LEGO® Bricks partners some of the world's most dazzling and innovative skyscrapers with the world's most popular building brick. The exhibit features 20 astonishing skyscrapers from North America, Asia and Australia constructed in breathtaking architectural detail by Ryan McNaught, one of only 12 LEGO®-certified professionals in the world.
Visitors will be inspired to create their own 'towers of tomorrow' with over 200,000 loose LEGO® bricks available in hands-on construction areas. Young and old will be limited only by their imaginations as they add their creations to a steadily rising futuristic LEGO® metropolis inside the exhibition. McNaught and his award-winning team of builders have used more than half a million LEGO® bricks and devoted over 2,000 hours to build the structures featured in the exhibition.
Towers of Tomorrow with LEGO® Bricks is a traveling exhibition from Sydney Living Museums and toured internationally by FLYING FISH
JULIA CHILD: A RECIPE FOR LIFE


OCTOBER 7, 2023 – FEBRUARY 11, 2024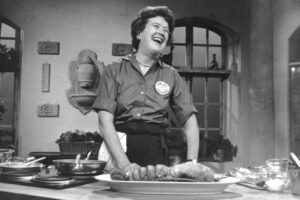 Julia Child's insatiable curiosity and tenacious spirit drove her to endlessly try, test, prove and communicate how to make delicious food. Learning to cook empowered Julia and she in turn empowered others, profoundly transforming American cuisine and food culture. Julia Child: A Recipe for Life explores the key ingredients that led to Julia's personal evolution and America's culinary revolution.
Visitors will journey through Julia's life, as she explored the world and discovered her sense of curiosity including the moment that ignited her love for French cuisine and inspired her career. At the heart of the exhibition, Julia's passion for teaching is explored through her meticulous process of recipe development for Mastering the Art of French Cooking and The French Chef, culminating with her legacy of inspiring chefs of all levels.
Key Experiences:
Interactive The French Chef television set
Video, audio and photography documenting Julia, her distinctive voice, and her extraordinary contributions to the culinary world
Sounds and smells of Julia's kitchen
Visitors can view and share memories of Julia's legacy
Julia Child: A Recipe for Life is a touring exhibition produced and managed by FLYING FISH, developed in collaboration with Napa Valley Museum, under the rights granted by The Julia Child Foundation for Gastronomy and Culinary Arts and The Schlesinger Library Radcliffe Institute, Harvard University, and generously supported by Oceania Cruises.
Harvard

Ratcliffe Institute

Schlesinger Library
BYRON REED FAVORITES


FEBRUARY 4 – AUGUST 6, 2023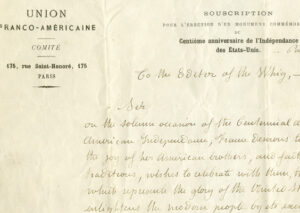 In the late 19th century, Omaha real estate agent Byron Reed gradually put together a stunning collection of coins, documents, books, maps and other items of great historical importance. Upon his death in 1891, Reed gave his collection to the city of Omaha, and it is housed and cared for at The Durham Museum. Only a small portion of his collection is ever on display at any given time, with the rest tucked away for safekeeping. The staff that is charged with caring for these items has chosen some of their favorites from the vault to show you. Their favorites include items related to national history, early Omaha and Byron Reed himself!

 ADMISSION
Adults: $13*
Seniors (62+): $10*
Military/Veteran: $10*
Children (ages 3 – 12): $7*
*PLUS TAX
Children 2 years and under FREE
Members: FREE!
Advance reservations are encouraged, but walk-ins are welcome.
Members, your free admission discount is applied near the end of the online registration process.