Volunteer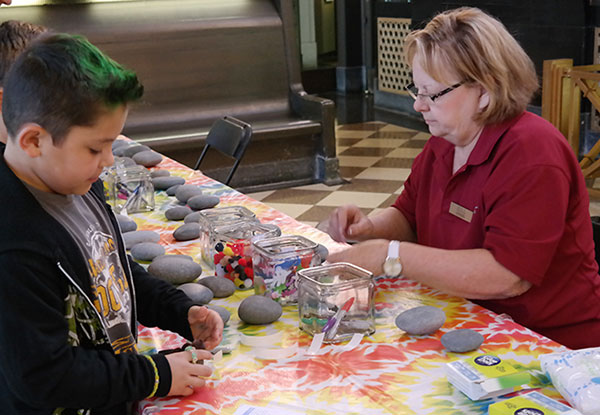 The Durham Museum is an adventure in discovery for all ages. Visitors flock to The Durham to experience culture, history and fun-filled family activities. You can be a part of the adventure by joining The Durham Volunteers.
Not only will you spend time in an invigorating atmosphere you are sure to enjoy, you will also receive the following exclusive volunteer perks:
A sneak peek at new exhibits before they open to the public
Invitations to a monthly lunch and learn series, and the annual holiday and volunteer appreciation celebrations
25% soda fountain discount on the days you volunteer
25% gift shop discount
TIMELINES, the museum's newsletter, mailed to your home
The chance to meet visitors from around the world

VOLUNTEER OPPORTUNITIES
Durham Museum Volunteers are an extraordinary group of individuals who take pride in our unique heritage and enjoy sharing their experiences with visitors from around the world. As a volunteer, you will have an opportunity to interact with a diverse array of visitors, as well as with other volunteers and staff who share similar interests and passions.
Front Desk Volunteer
Be the first to welcome our guests to The Durham Museum. As a front desk attendant, you will collect admission, share the benefits of membership with visitors and answer questions about museum layout and programming.
Museum Shop
The Hitchcock Museum Shop is filled with items as unique as the museum itself. In our museum shop, you will help guests find the perfect piece of history to take home. You will also help our customer experience team organize and display items in the shop.
Photo Archive
The Museum's Photo Archive contains over 1,000,000 images related to the history of Omaha. As a volunteer in our photo archive, you will help maintain this rare and important collection, and assist guests with locating images for reproduction.
Education Volunteers, Docents, Train Car Host and Gallery Guides
Give visitors a personal experience they will appreciate and treasure! Join in on the fun by helping with classes, field trips and workshops. If history is your specialty, you'll enjoy an interactive role as a docent, where you will provide tour groups with detailed commentary on all that The Durham has to offer. Whether you've worked on the railroad, or simply enjoy its rich past, share your passion for travel from days gone by. Answer visitor questions about the museum's train cars, and offer a yarn or two of your own.
Membership
The museum's growing membership is due in no small part to our dedicated membership volunteers. Help our membership staff with mailings and thank-a-thons, as well as promoting and selling memberships both at the museum and off-site.
Special Events
The Durham hosts several special events throughout the year, including membership events, lectures, and our annual Christmas at Union Station celebration. From greeters and ushers to ticket takers and traffic control, there are countless opportunities to lend a hand.
Don't see something you like? No problem! Contact us today and share your interests…
we are sure to find just the right volunteer opportunity for you!