Permanent Exhibits
The Durham Museum provides countless opportunities to discover Omaha's history. After stepping back in time with the life-like sculptures and beautifully restored architecture of the Suzanne and Walter Scott Great Hall, visitors can explore our extensive permanent galleries, which brilliantly capture the remarkable history of our region.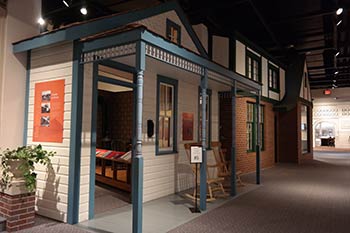 Baright Home and Family Gallery
Before the land became dotted with wooden and brick structures, it was a rolling prairie inhabited by the Omaha Indian tribe. Experience the history of this fascinating culture by stepping into a rawhide tepee or by sitting by the fire of a replica earth lodge. From the mid-1880s to 1915, "Worker's Cottages" were constructed in most sections of Omaha as housing for blue-collar families. Many of these unique one story and one-and-a-half story homes still exist today. Go back nearly 100 years and peek into the attic, parlor, kitchen and bedroom of the museum's reproduced "Worker's Cottage." Living in an English Tudor-Revival home in the Dundee district during the 1940s meant prosperity. Items that reflect period technology and the comforts of home are featured in this exhibit.
---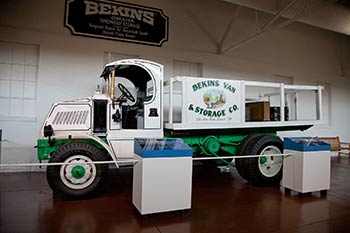 Bekins Moving & Storage
This display, featuring a restored 1922 Mack flatbed truck, tells the story of one of Omaha's great companies.
---
Benson Streetcar
Take your seat on an authentic streetcar and pretend you are making your way through the Benson neighborhood during the 1940s.
---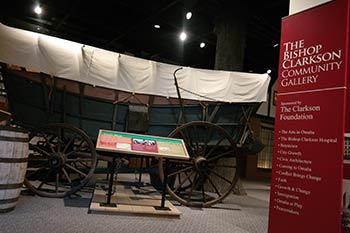 Bishop Clarkson Community Gallery
From a prairie town to a thriving metropolis, Omaha has a strong tradition of community. Travel back in time over 100 years to the formation of our fine city. St. Cecilia's Cathedral, Bishop Clarkson Hospital and The Brandeis Building are just a few of the institutions represented in the exhibit. Each has a story of its beginnings and interesting facts even natives of Omaha may not know. For example, did you know that St. Cecilia's Cathedral took 54 years to build or that one of the Brandeis brothers died on the Titanic?
"Coming to Omaha," another section of the exhibit, depicts real accounts of immigrants who settled in Omaha and helped shape the community. The Brown family, who started the Omaha Star, and the Throup family, who opened and managed a Danish boarding house for over 10 years, are just two of the families mentioned.
With new arrivals to the city, clashes were inevitable. The "Conflict Brings Change" area speaks to some of these events, and includes a digital interactive commemorating the 100th anniversary of the lynching of Will Brown and Omaha's Red Summer of 1919, as well as the reflections of many African-American leaders in Omaha on where the city has changed and where continued efforts need to be made.
---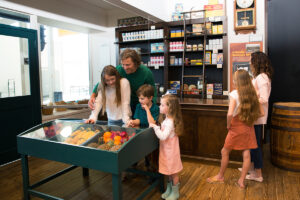 Buffett Grocery Store
This exhibit features a replica store front of the original Buffett Grocery Store that opened in 1915 in Omaha's Dundee neighborhood.
---
Byron Reed Gallery
In the late 19th century, Omaha real estate agent Byron Reed gradually put together a stunning collection of coins, documents, books, maps and other items of great historical importance. Upon his death in 1891, Reed gave his collection to the city of Omaha and it is now housed at The Durham Museum. Significant portions of Reed's collection are on exhibit; of special interest is the "Treasures Cabinet," containing Reed's specimen of the 1804 Dollar.
The Byron Reed Collection also includes: 
Ancient Coinage – Roman Imperial, Byzantine, Ancient Greek, and Egyptian
Colonial Coins
Documents, Manuscripts, Autographs, and Books
Exonumia: America's "Other Money"
Federal-Issue Coinage
Medals
Paper Currency
Patterns
Political Memorabilia
Territorial Gold
Tokens
View digitized documents and currency from the collection here »
---
Concourse Gallery
The construction of the Transcontinental Railroad garnered Omaha the attention and capability it required to become a major contender in American markets. As Omaha's population grew, so did the need for a railway station that could keep up with serving thousands of passengers and freight transactions. This area explores the building's architecture and the history of passenger travel at Union Station.
---
Lives of Tradition Series
by Charles W. Guildner
Donated to the museum in 2009 in honor of Chuck Durham, the Lives of Tradition series looks at how ranchers and farmers in Nebraska have retained traditions for living and working, even as they have moved into the 21st century.
---
Harriman Family Line
Artifacts make history real by telling stories and reflecting changes. Stroll through train cars from the 1940s and 50s including a Pullman car, lounge car and caboose. Get up close to a steam engine and experience the history of railroad travel.
---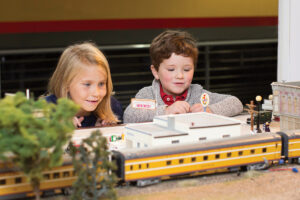 Model Trains
This O scale model train layout is a delight for young and old. The depot and diorama represents Union Pacific's double track main line from Omaha to Ogden during the 1950s. Push-button interactives allow visitors to lower the crossing guards, turn the lights on in Durham Junction and make sure the trains stay running on time!
---
Mutual of Omaha Theater
The Mutual of Omaha Theater is a great place to start your visit through the permanent galleries. Enjoy a short film showing the development of Omaha from the mid-1800s through the 1950s.
---
Omaha at Work Gallery
When Lewis and Clark passed this area on their trip up the Missouri River, did they envision a city that over 200 years later would stretch for miles to the west? Probably not. The Omaha at Work Gallery is a tribute to the exemplary achievements and entrepreneurial spirit of local business people who helped shape the course of Omaha's history. Not to be missed is the exhibition and interactive dedicated to the city's namesake, Independence-class littoral combat ship USS OMAHA (LCS-12), and her predecessor naval vessels.
---
The Platform
All ages are invited to learn and play in this interactive STEAM-based (Science, Technology, Engineering, Art, and Mathematics) space. For information on weekend programming at The Platform, visit our calendar page (tip: filter events using the "Platform" tag).
---
Trans-Mississippi Exposition Gallery
The 1898, the Trans-Mississippi and International Exposition ushered in a time of renewed growth and prosperity for Omaha. The area chosen for the Exposition was located on a 184-acre site in north Omaha known as the Kountze Tract. From the beginning, the "White City" was only to last the summer and was torn down in 1899, leaving the neighborhood with an infrastructure of roads, sewers, electricity, a park and streetcar service. Souvenirs, photographs and other artifacts recall the extraordinary event that lasted only five months and drew 2.6 million visitors from around the world.
---
Trish and Dick Davidson Gallery
The Trish & Dick Davidson Gallery has a variety of transportation and commerce exhibits. From railcars to retail, these exhibits offer opportunities for all ages to explore, discover and remember.
Save
Suzanne and Walter SCott Great Hall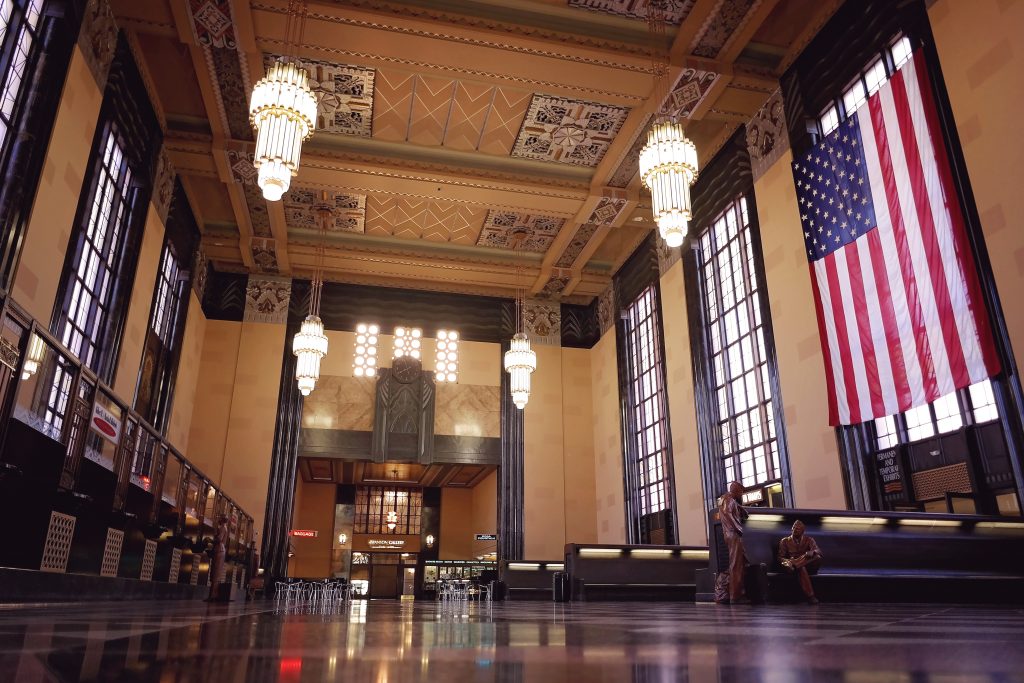 Step into the Suzanne and Walter Scott Great Hall and admire the beautifully restored art deco architecture of Union Station's main waiting room. Measuring 160 feet by 72 feet, it is spanned by a 60 foot high ceiling. The Hall features a ceiling of sculptured plaster, with painted gold and silver leaf trim, ten cathedral-like plate glass windows, a patterned terrazzo floor, columnettes of blue Belgian marble, and a wainscoting of black Belgian marble. Six immense chandeliers, 13 feet tall, five feet in diameter, and suspended 20 feet from the ceiling, light the Great Hall.  Six groups of bronze statues created by local sculptor, John Lajba, are spread throughout the Great Hall and symbolize people who passed through Union Station.