Register Soon. Camps are already filling up!

Let your child's imagination soar this summer!
June 5 – August 11, 2023
What's a great way to inspire young minds and give them a summer of fun? Summer camps at The Durham Museum, of course! Choose from a wide range of camp themes including science, construction, wizards and more! Half-day and full-day programs are available for 1st-5th graders. (Please note these are the grade levels your child will be entering in the 2023-2024 school year.) The Durham Museum also offers a "Beyond the Camp" experience for campers who want to arrive early or stay late. Registration is open now!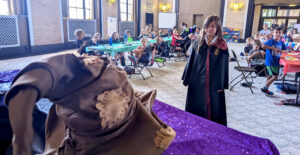 Have questions or need help registering? Call 402-444-5027

DON'T MISS THESE SPECIALTY CAMPS
OMAHA STAYCATION I & II

June 12-16 AND July 10-14 • Need a summer vacation? Look no further than your own hometown! These adventurous weeks will take campers on a "staycation" to the hottest attractions in Omaha. Back by popular demand, we've decided to feature not one, but two unique lineups of popular stops in the metro! Check back later for lineup announcements.

WIZARD ACADEMY

June 26-30 OR July 24-28 • Pack your trunk! This popular annual camp will celebrate the wizard world through crafts, lessons, games and more. Join us for the sorting hat ceremony on Monday, the awards ceremony on Friday and enjoy the adventures in between! This year, Wizard Academy will be offered twice during the summer.
FAQs
AGE GROUPS:
1st-2nd • 3rd-5th
Please note, these are the grade levels your child will be entering in the 2023-2024 school year.
CAMP HOURS:
9AM-4PM
Half-day programs are available select weeks; check the schedule for availability.
Morning Session: 9AM-Noon • Afternoon Session: 1-4PM
BEYOND THE CAMP
$15/day; $60/week (cost is per child)
Before Camp: 7:30-9AM • After Camp: 4-5:30PM
During our "Beyond the Camp" experience, campers can play games, draw, read or participate in other activities supervised by camp staff.
LUNCH:
NOON-1PM
Lunch supervision is included during any weeks where your child is enrolled in a full-day camp. Campers may bring a sack lunch or $6 to purchase lunch (cash or check). After eating, campers will play games or participate in other activities led by camp staff until the afternoon session begins.
CANCELLATION POLICY
Full refunds will be granted for cancellations requested two weeks in advance. Refunds will also be granted for campers with positive COVID-19 tests or confirmed direct exposure to a positive COVID-19 case.
CAMPER MEDICATION POLICY
Campers must be able to administer their own medication, and we are unable to store medication during the day or overnight. If the camper can administer the medication themselves, our Durham staff is able to supervise. If an adult needs to administer the medication, we can arrange for the camper to be available at a specific time for a parent or guardian to administer the medication to the camper.
SCHOLARSHIP PROGRAM

Scholarship Program: The Durham Museum is pleased to offer need-based assistance for summer camps. Click here to apply.
2023 Pricing Information
HALF-DAY WEEK
One week-long morning OR afternoon session
Member $100/camper
Non-Member $110/camper
 
FULL-DAY WEEK
One week-long, full-day session
Member $200/camper
Non-Member $220/camper
 
SPECIALTY THEMED WEEK
Week-long, full-day camps: Omaha Staycation I & II • Wizard Academy
Member $220/camper
Non-Member $240/camper
 
4-DAY HOLIDAY WEEK
4-day, full-day camp available 4th of July week
Member $180/camper

Daily rate: $45

Non-Member $200/camper

Daily rate: $50

 
BEYOND THE CAMP
Drop off as early as 7:30AM and pick up as late at 5:30PM
$15/day
$60/week
Don't miss ouT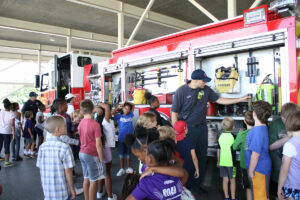 "(Our daughter) has really enjoyed her summer at The Durham. We, as parents, are grateful for the wonderful learning atmosphere The Durham Museum and camp staff have provided. We will definitely be looking at sending her back for a few weeks next summer." – Camp Parent
"My daughter LOVED the Sorting Hat Ceremony and all of the Harry Potter-related activities throughout (Wizard Academy). She said this was her favorite camp of the summer!" – Camp Parent
"They looked forward to every day and enjoyed the camp. I loved picking them up and hearing about their exciting day. Thank you Durham!" – Camp Parent
Have questions or need help registering? Call 402-444-5027