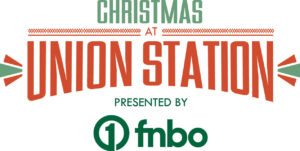 IT'S THE MOST WONDERFUL TIME OF THE YEAR
NOVEMBER 24, 2023 – JANUARY 7, 2024
Time to dust off those ornaments and deck the halls! Christmas at Union Station presented by FNBO is back, and we can't wait to see you at the museum! From the massive 40-foot-tall twinkling tree to holidays around the globe to Santa himself, you won't want to miss all that we have planned.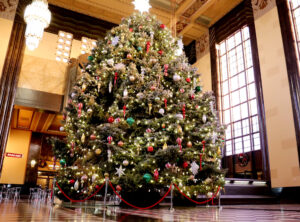 OMAHA'S OFFICIAL CHRISTMAS TREE!
See the region's largest indoor Christmas Tree! Standing at over 40 feet tall, this year's tree was donated by the Croy family (Steve, Beverly, Dave, Cindy, Erin and Allison) of La Vista.
---
THE TREE LIGHTING CEREMONY RETURNS IN-PERSON!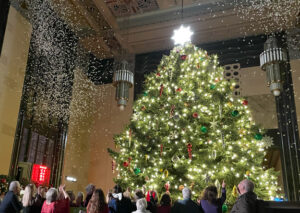 Friday, November 24, 4-8PM
(Tree Lighting happens at about 7PM)
Christmas at Union Station presented by FNBO festivities begin with the much anticipated return of our annual, in-person Tree Lighting Ceremony at The Durham Museum. That's right, this year the ceremony returns as an in-person event after going virtual for the past three years! Enjoy loads of entertainment including live music from Michael Walker and impromtu dance numbers from members of the Bellevue Little Theatre. Cookie decorating, scavenger hunt and holiday crafts, plus Santa himself will make for a fun evening! All the good tidings and cheer lead up to the signature tradition of the night: the community countdown to lighting the region's largest indoor Christmas tree, followed by a sing-a-long!
Due to limited capacity, advanced registration is highly encouraged. Register anytime online or call 402-444-5071 by November 22. If space allows, walk-up tickets will be available at the door. The Tree Lighting Ceremony is FREE for museum members; regular admission applies for non-members.
ADDITIONAL PARKING: Shuttle drop-off at the museum, is available at the Conagra Brands parking lot, 7th & Leavenworth Streets.
---
HOLIDAY CULTURAL FESTIVAL

Friday, December 1, 4-9PM
Holiday greetings from around the world! Learn how the world celebrates this joyful time of year during the Holiday Cultural Festival. More than 40 local cultural organizations proudly display their crafts and traditional dress, while musicians and dancers perform throughout the evening. Hard-to-find ethnic foods and gifts will be available for purchase.


ADDITIONAL PARKING: Shuttle drop-off at the museum, is available at the Conagra Brands parking lot, 7th & Leavenworth Streets.

Participating organizations: African Culture Connection, Alliance Francaise, Belgian-American Society, Bluebird Cultural Initiative, Boys Town Hall of History, Chaima's African Cuisine, Chrysalis Studio of Belly Dance, Colneb, Craoi na Tire Studio of Irish Dance, Croatian Cultural Society, Czech and Slovak Educational Center and Cultural Museum, Daughters of Norway, Dowds Irish Dance Academy, Filipino American Organization, Flamenco Omaha, UNO/UNL Students with Omaha Sister Cities Association-Japan, Grand Patisserie, Hispanic Art Center of Omaha, Independent Order of Vikings Orvar Odd Lodge #24, Japanese American Citizens League-Omaha Chapter, Ladies Ancient Order of Hibernians/Ancient Order of Hibernians, Museum of Danish America, Nebraska Chinese Association, Omaha Czech/Slovak Cultural Club, Omaha Lithuanian American Community, Polish Home, Inc., Santa Lucia Festival, Scottish Society of Nebraska, Sons of Norway, St. John's Greek Orthodox Church, St. David's Welsh Society, St. Nicholas Serbian Choir, Ukrainian American Association of Nebraska, VASA Order of American Omaha Lodge #330, Venezolanos en Nebraska.
---
FAMILY NIGHTS WITH SANTA

Tuesdays, 5-8PM • November 28 and December 5, 12 & 19
During the busy holiday season, The Durham Museum makes it easy for families to create special memories. Santa visits the museum on Tuesday evenings between Thanksgiving and Christmas. Share your wish list with the big guy, listen to live performances by local musicians, create crafts and take part in the FNBO Elfie Scavenger Hunt. We'll close out the night with indoor snowfall under the glow of our magnificent tree! Please note, the museum closes at 4PM for general admissions and reopens at 5PM for Family Nights.
---
HOLIDAY CONCERT SERIES

November 25 – December 23: Saturdays (10:30AM-3PM) and Tuesday evenings (5-8PM)
Enjoy some of the area's most beautiful holiday music under the glow of The Durham's Christmas tree. Talented local entertainers perform as part of The Durham Museum's holiday concert series. Special support for the concert series provided by Star 104.5 the Christmas Station.
---
NOON YEAR'S EVE

Saturday, December 30, 10AM-2PM
** Advance registration required **
11/30: TICKETS NOW AVAILABLE!
Children of all ages will enjoy this fun-packed bash with live music from Dino O'Dell and the T-Rex All-Stars, special crafts and activities. Ring in the noon year in your handmade party hat while enjoying the celebratory bubble wrap stomp and a spectacular balloon drop at noon in the Suzanne and Walter Scott Great Hall.

Due to limited capacity, advanced registration is highly encouraged. Tickets go on sale at 8AM Thursday, November 30. Register anytime online or call 402-444-5071 by December 28. If space allows, walk-up tickets will be available at the door.

ADDITIONAL PARKING: Shuttle drop-off at the museum, is available at the Conagra Brands parking lot, 7th & Leavenworth Streets.
VISIT SANTA'S CABIN
November 24-December 17
Friday & Saturday, 10AM-Noon & 1-3PM
Sunday: Noon-3PM
December 19-23 (Week before Christmas)
Santa visits daily Tuesday – Saturday,
10AM-Noon & 1-3PM
Visit our jolly pal from the North Pole at his cozy cabin retreat! Children can choose to sit on Santa's lap or give him a call on our old-fashioned telephone! If using the phone, Santa's elves will be at the switchboard to make sure you get connected to the big guy himself.
Santa also visits during the Tree Lighting Ceremony, the Holiday Cultural Festival and Tuesday evenings for Family Night with Santa.
WHEN IS SANTA VISITING THE MUSEUM?

give the gift of membership!

A Durham Museum membership is the gift that can truly be enjoyed all year long! From unlimited free admission to discounts on purchases in the Soda Fountain and Hitchcock Museum Shop, a membership is the best way to experience all that the museum has to offer.
---
Shine the Light on Hunger

Throughout the holiday season, you can drop off non-perishable food items at The Durham to help support the Food Bank for the Heartland as part of Conagra Brands Foundation's Shine the Light on Hunger campaign. Please help us fight hunger in our community and assist those in greatest need!
---
WHITE CHRISTMAS – THE EXHIBITION

November 21, 2023 – January 28, 2024
The Durham Museum is partnering with the Rosemary Clooney House Museum and private collectors Stephen and Heather French Henry to host White Christmas – The Exhibition. Filled with a resonating patriotic theme supported by unforgettable song and dance routines, Michael Curtiz's musical film White Christmas (1954) became an instant holiday classic.

See film costumes created by legendary designer Edith Head, props, sheet music, behind-the-scenes photos, archival materials, and more! The exhibit features some of the most iconic costumes such as the blue "Sisters" dresses and Vera-Ellen's sparkling "Mandy" dance outfit. Whether you are a fan of the music, the costumes, the pageantry or all of the above…this traveling exhibition will be the highlight of the holidays!
---
HOLIDAY DISPLAYS

Photo Archive Display
It's the Most Wonderful Time of the Year: Christmas at Union Station
The Christmas at Union Station tradition was reborn in 1975 after the Western Heritage Museum opened and brought back the wintertime celebration of a Christmas tree in the Main Waiting Room. Today, The Durham Museum marks the beginning of the holiday season with the arrival and lighting of a massive Christmas tree. Seven photos from the museum's archival and institutional collections feature various steps that make this event possible. The display also features a LEGO® model of Union Station decorated for the holiday season.


Holiday Cultural Tree Display
This holiday favorite is one of the enduring fixtures of the season and showcases how cultures from around the world celebrate the holiday season. Each tree is decorated by a local Omaha cultural group and is accompanied by interpretative text explaining the meaning behind the various decorations and unique traditions of each culture.


Log Cabin Christmas
Saturdays, November 25-December 23, 10AM-Noon
Visit our historic log cabin replica for a special look at how pioneers on the Great Plains celebrated the holidays. A docent will be present to show guests how the pioneers decorated, celebrated and gave gifts during their difficult winters on the prairie.

Christmas at Union Station is Presented By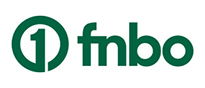 Major Sponsor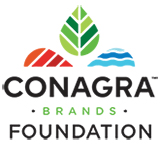 Supporting Sponsors
Special thanks to DH Pace & Norm's Door Service, Terry Hughes Tree Service, Omaha Police Department and Duke Aerial.
Media Support Provided By

---
Admission
Adults: $15
Seniors (62+): $12
Children (ages 3 – 12): $8
Children 2 years and under FREE
Members: FREE!
Advanced tickets are encouraged but not required. Walk-ins welcome.
---
CHRISTMAS AT UNION STATION FAQS
HOLIDAY HOURS: November 24, 2023 – January 7, 2024
Tuesday-Saturday, 10AM-4PM • Sunday, Noon-4PM
Special hours
• Family Nights with Santa: Museum reopens on Tuesdays from 5-8PM (November 28 and December 5, 12 & 19)
• Christmas Eve: 10AM-2PM
Closed
Mondays, Thanksgiving, Christmas Day, New Year's Day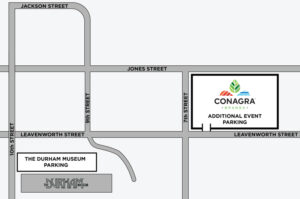 ADDITIONAL EVENT PARKING: The Conagra Brands parking lot at 7th & Leavenworth, with shuttle drop-off at the museum, is available during the following events:
• Tree Lighting Ceremony, November 24
• Holiday Cultural Festival, December 1
• Noon Year's Eve, December 30
.
How can children talk with Santa?
You can visit Santa's cabin located inside the Truhlsen Lecture Hall. Guests can sit on Santa's lap or talk with him from a distance on our "old-fashioned" telephone … you choose! If using the phone, Santa's elves will be at the switchboard to make sure you get connected to the big guy himself. Then children have time to talk to Santa and tell him their wish list.
This activity is included with museum admission. During the popular Christmas season, we encourage guests to reserve or buy a ticket in advance online or over the phone, including museum members. You are welcome to see Santa during his scheduled hours at any time during your visit.
General FAQs may be found on the VISIT page of our website:
---
THE HISTORY OF CHRISTMAS AT UNION STATION
Back in the 1930s, Union Pacific employees would select and cut a tree from along the railroad right-of-way in the Pacific Northwest, and then transport it to Omaha's Union Station. In 1971, Union Station closed after Congress established the National Railroad Passenger Corporation, now Amtrak, to handle all railroad passenger travel. The building was donated to the City of Omaha. Union Station reopened as the Western Heritage Museum in 1975, and within the first two weeks the decision was made to re-install a giant tree in the main waiting room of the museum for Christmas. The Christmas at Union Station tradition was alive again!
While Union Pacific employees still harvest today's tree, they haven't had to travel nearly as far, as the museum's tree is donated by a local family. Each summer we send out a call to Omaha area residents for tree nominations. Trees must meet a number of criteria to be considered. Durham staff then scout out each nomination, narrowing it down until the official tree is chosen!
Archive photos shown are from The Durham Museum Photo Archive, or shown courtesy of Union Pacific Museum