Teachers' Week 2022
October 3 – 7
Join us for a week full of teacher appreciation and helpful resources for educators, including our 19th Annual Teachers' Night on October 7! Registration is now open!

Attention educators! The Durham Museum invites you to take part in a week full of teacher appreciation and helpful resources. The special week of activities will culminate with the 19th annual Teachers' Night, where educators will get a chance to take part in a resource fair, enjoy food and prizes, and explore the museum, including The Durham's fall exhibition, Dressing the Abbey. We hope to see you there!
NEW THIS YEAR: REGISTRATION PRIZES!
Win Treats for Your School: Teachers who register for either event below by August 31 will automatically enter their school in a chance to win goodies for the entire staff. One school will be chosen each week in September.
Registration Raffles: Each week in September, we will announce a special raffle prize for the week. Any teacher who signs up that week for either event below is automatically registered to win.
Teacher Appreciation Visits: October 3-7, the museum will surprise one teacher in their classroom with a special prize package as a thank you for registering for our Teachers' Week events. This could include gift cards, flowers, balloons, treats, classroom supplies, and more!
VIRTUAL EVENT
Featuring Dr. Monique M. Chism, Under Secretary for Education, Smithsonian Institution
Monday, October 3, 4-4:30PM CST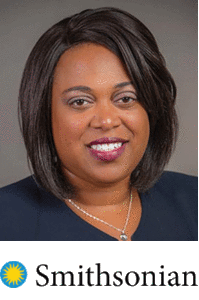 The Durham Museum, Nebraska's first Smithsonian affiliate, is proud to host a virtual  conversation with Dr. Monique Chism. As Under Secretary for Education, Chism is responsible for defining the Institution's educational priorities. She oversees the Smithsonian's collective initiatives, communication strategies and funding for programs that benefit learners of all ages. Dr. Chism will discuss her background and work, highlight the incredible array of educator resources the Smithsonian has to offer and provide a note of inspiration for area educators.
DID YOU MISS THE LIVESTREAM?
Watch a recording of the presentation on our YouTube channel.

19th ANNUAL TEACHERS' NIGHT
Friday, October 7, 4-7PM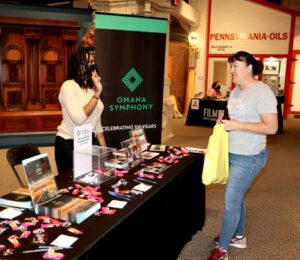 Our 19th annual Teachers' Night is shaping up to be the best one yet! After being greeted with a special giveaway and your Teachers' Night 2022 bag, the night is yours to explore the museum and enjoy all the event has to offer:
Resource fair featuring dozens of area non-profits highlighting everything they have to offer local educators
Dressing the Abbey, our fall exhibition featuring costumes from the popular television show Downton Abbey™
Free hot dog or hamburger meals, grilled outside on the parking deck with our friends from Hy-Vee
Two drink tickets to visit our beverage areas featuring a variety of alcoholic and non-alcoholic beverages
Dozens of raffle prizes
"Smithsonian Corner" featuring Smithsonian resources and staff along with Nebraska's three Smithsonian Affiliates: The Durham Museum, The University of Nebraska State Museum-Morrill Hall, and The Strategic Air Command and Aerospace Museum

Meet and greet with Professor Durham, everyone's favorite puppet featured weekly on Museum Live!
And more!
---
Similar to previous years, we will have timed entry into the event, but there will not be a one-way path this year. Be sure to check out the program when you arrive at the event so you can plan your evening! A few things to consider before you register:
We ask that each teacher register individually to ensure the accuracy of registrant information
Please note this is an 21 and over, educator-only event. No children will be admitted. We encourage you to attend with coworkers and colleagues from across the metro!
Registration is encouraged in advance. This year's event will have timed ticket entry. On your registration page, please select "Other Times" to select your specific arrival time. The last arrival time will begin at 5:30PM to allow guests ample time to walk through the event
Once you arrive during your selected time slot, you can stay for the remainder of Teachers' Night
Click below to register!
Parking: In addition to parking at The Durham Museum, the Conagra Brands parking lot at 7th and Leavenworth streets, with free shuttle drop-off at the museum, will be available during Teachers' Night from 4-8PM.