pulitzer prize photographs

now – September 20, 2020
The most comprehensive collection of Pulitzer Prize-winning photographs ever assembled!
Photographers record the defining moments of our world and our time, capturing history through timeless images of fleeting moments. With the click of a button, vivid imagery documents the pain of poverty, the ecstasy of victory and the triumph of redemption.
This exhibition, the second Pulitzer-themed display to visit The Durham Museum, features more than 80 large-format framed photographs, expanded so that visitors can explore every detail of the gripping images. Each will be accompanied by a label describing the dramatic story of how the photographer captured the moment. Additionally, The Durham Museum will display "Homecoming," the 1944 Pulitzer Prize-winning photograph by Earl "Buddy" Bunker of the Omaha World-Herald. Interactive touchscreen kiosks explore more recent Pulitzer Prize winners through more than 1,000 images and 15 hours of video interviews with the photographers.
From iconic images like Joe Rosenthal's 1945 photo of the American flag raising at Iwo Jima, to past and present moments of triumph and tragedy, these unforgettable photographs serve as the world's eyes to history as it happened.
Please note that some material in Pulitzer Prize Photographs may be too intense for young children.

"PULITZER PRIZE PHOTOGRAPHS" was developed by the Newseum. The Newseum works to increase public understanding of the importance of a free press and the five freedoms of the First Amendment. newseum.org
---
History Through Pulitzer
Photos can transport us back in time, make us experience strong emotions, remember and reflect. In a series of blog posts we are calling "History Through Pulitzer" we are highlighting local reactions to Pulitzer Prize-winning photographs on display this spring at The Durham Museum.
---
ADMISSION
Adults: $11.00
Seniors (62+): $8.00
Children (ages 3 – 12): $7.00
Children 2 years and under FREE
Members: FREE!
How to make your reservation or purchase tickets » watch "How To" video or view PDF Instructions
Advance reservations are required and available up to 5 days in advance of your visit.

Education Alley Gallery
Taking it to the Streets: Grading Downtown Omaha

NOW – January 31, 2021
To combat six major hills in downtown Omaha the city undertook extensive street projects to lower inclines. This work was done throughout the 1880s–1920s with the largest of the projects being the grading of Dodge Street in 1920. In some locations, buildings were brought down to a new level 18 feet lower than the original foundation. Tempers ran high between neighbors going mad with the constant noise, businesses and homes being literally uprooted and some downtown residents even suing the city for damages and lack of sleep. In the end, the grading of Dodge Street cost over one million dollars and moved over 300,000 cubic yards of dirt. Through this photography exhibit, see what all the fuss was about and how times have changed the streets of downtown Omaha.
Photo Archive Gallery
Sporty Women: The desire to compete

NOW – december 31, 2020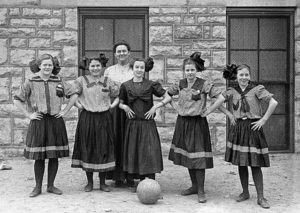 Equal treatment for women in sports is as modern a topic today as it was for women 100 years ago. Concepts of proper lady-like behavior both in actions and dress were present from the early days of female athletics. Using images from The Durham Museum Photo Archive, this exhibit highlights elements of conflicting standards that allowed women to compete in sports if they maintained the appearance of femininity. The selection of images traces changes over time to uniforms and sports women can play while highlighting the long-term conversation about the role of women as athletes.
Photo: Early sporting dress | 1911 | Homer O. Frohardt Collection
The Durham Museum Photo Archive | HOFP-1927