TOWERS OF TOMORROW WITH LEGO® BRICKS


NOW – SEPTEMBER 3, 2023
Time for a summer "block" party at The Durham Museum! Towers of Tomorrow with LEGO® Bricks partners some of the world's most dazzling and innovative skyscrapers with the world's most popular building brick. The exhibit features 20 astonishing skyscrapers from North America, Asia and Australia constructed in breathtaking architectural detail by Ryan McNaught, one of only 21 LEGO®-certified professionals in the world. 
Visitors will be inspired to create their own 'towers of tomorrow' with over 200,000 loose LEGO® bricks available in hands-on construction areas. Young and old will be limited only by their imaginations as they add their creations to a steadily rising futuristic LEGO® metropolis inside the exhibition. McNaught and his award-winning team of builders have used more than half a million LEGO® bricks and devoted over 2,000 hours to build the structures featured in the exhibition.
Towers of Tomorrow with LEGO® Bricks is a traveling exhibition from Museums of History NSW and toured internationally by Flying Fish.
---
"Towers of Tomorrow" special programming
THE LUNCHBOX: PACKED WITH POP CULTURE


NOW – SEPTEMBER 3, 2023
In 1993, Mark Kelehan stumbled across a 1980 Pac Man lunchbox for sale at a flea market in Omaha, Nebraska. The imagery of this lunchbox triggered a sense of nostalgia about his childhood. That lunchbox would kick off a 30-year journey of exploring and researching the rich history of lunchboxes. The Durham Museum is pleased to partner with Kelehan to present a never-before-seen exhibit, The Lunchbox: Packed with Pop Culture.
Featuring over 500 lunchboxes as well as one-of-a-kind original paintings, the display provides an overview of the history of lunchboxes, insight into the production process and an educational introduction into the dynamic world of collecting. The Lunchbox demonstrates how lunchboxes are time capsules of American pop culture from the 1950s through the 1980s. Across America and beyond, schoolchildren celebrated heroes of the big and small screen, radio, sports and more on metal lunchboxes. Before computers made digital art a reality, lunchbox art came to life with the assistance of professional illustrators, whose brilliant work was transferred onto tens of millions of lunchboxes year after year. From practical beginnings, a culture of collecting was born that allowed individuals to recapture some nostalgia, history and art.
This is a celebration of the lunchbox and is designed to take you down memory lane as you see the lunchbox you had (or wanted!).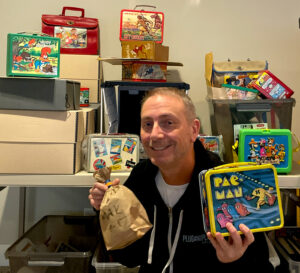 About Mark Kelehan: Mark lives in Elkhorn, Nebraska, with his wife Lori, and their four daughters Amelia, Julia, Penelope and Violet. Mark picked up the passion for collecting from his mom and has been collecting lunchboxes for nearly 30 years. Mark graduated from Creighton University in 1997 with a bachelor's degree in Finance and International Business, and he earned his M.B.A from the Tuck School of Business at Dartmouth in 2008. Mark currently works in the Marketing & Sales Department at Union Pacific and serves as an adjunct professor at Creighton University teaching Investment Banking. In his free time, he enjoys creating lunchbox exhibits and (more importantly) spending time with his family, especially watching his girls play sports and coaching his twins' first-grade basketball team!
HONORING 75 YEARS: THE HISTORY OF OMAHA'S WORLD WAR II MEMORIAL PARK


NOW – SEPTEMBER 3, 2023
America entered World War II following the Japanese attack on Pearl Harbor on December 7, 1941. In 1943, before the outcome of the war was even assured, Mrs. Lulu N. Broad, owner of the Gypsy Tea House, wrote a letter to Henry Doorly, publisher of the Omaha World-Herald, suggesting construction of a memorial for Douglas County area service men and women.
After nearly a year of study by Omaha civic leaders, the World War Memorial Association, a charitable corporation, was formed and suggested the 65-acre tract of land formerly occupied by the Happy Hollow Country Club and later, the Dundee golf course, to become the site of a permanent tribute for those men and women who served our country in the U.S. military.
On June 5, 1948, one day before the fourth anniversary of the invasion of Normandy ("D-Day") the citizens of Omaha welcomed President Harry S. Truman to formally dedicate World War II Memorial Park to the people of Douglas County.
The Durham Museum is proud to partner with the Omaha Parks Foundation to highlight the 75th anniversary of this Omaha landmark. To learn more about the 75th anniversary celebration visit omahaparksfoundation.org/memorial-park-75.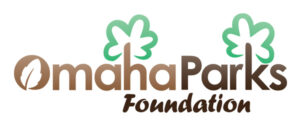 Pictured: A group of people and military men stand behind President Truman watching him lay a wreath of flowers down at Memorial Park in June 1948.
Photo Archive
OMAHA WORKERS: STRIKING A CHANGE IN HISTORY
now – AUGUST 6, 2023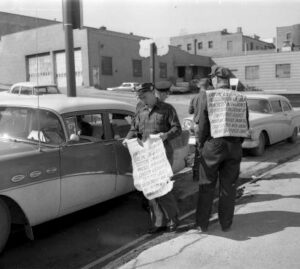 From streetcar workers to pharmacists and farmers, striking unions have often been a tool for Nebraskans to try to earn the "good life" and fight for social causes. This exhibit, featuring nine images from the museum's Photo Archive, explores the stories of some notable strikes in Omaha. Tracing the history of nine incidents from the mid-30s to the late 70s, this photo exhibit explains what the strikers were working for and what outcomes they achieved.
This exhibition was developed by Durham Museum Intern and University of Nebraska Lincoln graduate William James Roe.
BYRON REED FAVORITES


NOW – AUGUST 6, 2023
In the late 19th century, Omaha real estate agent Byron Reed gradually put together a stunning collection of coins, documents, books, maps and other items of great historical importance. Upon his death in 1891, Reed gave his collection to the city of Omaha, and it is housed and cared for at The Durham Museum. Only a small portion of his collection is ever on display at any given time, with the rest tucked away for safekeeping. The staff that is charged with caring for these items has chosen some of their favorites from the vault to show you. Their favorites include items related to national history, early Omaha and Byron Reed himself!
ADMISSION
Adults: $15*
Seniors (62+): $12*
Military/Veteran: $12*
Children (ages 3 – 12): $8*
*PLUS TAX
Children 2 years and under FREE
Members: FREE!
Advance reservations are encouraged, but walk-ins are welcome.
Members, your free admission discount is applied near the end of the online registration process.