james cameron – challenging the deep

NOW – October 3, 2021
Join The Durham Museum in welcoming the North American premiere of James Cameron – CHALLENGING THE DEEP! Immerse yourself in an underwater world in an exhibition that traces explorer and filmmaker James Cameron's passion for deep ocean science, technology and exploration, including material on his record-breaking dive to the bottom of the planet in the DEEPSEA CHALLENGER, the submersible he co-designed and engineered.
Experience how James Cameron's passion for understanding and exploring the ocean has shone a light on one of the most important and least explored parts of the Earth. The exhibition immerses you in an underwater environment using cinema-scale projections, artifacts and specimens from his expeditions. Explore the spectacular and mysterious abyss and discover the shipwrecks of Titanic and the German battleship Bismarck. See artifacts from the design and construction of the DEEPSEA CHALLENGER, which was built to withstand water pressure of 16,000 pounds per square inch.
Learn about how technologies pioneered by Cameron for underwater recording, lighting, communication and diving are employed both in his filmmaking and exploration. You'll also see original film props and costumes from The Abyss and Titanic, including the iconic Heart of the Ocean diamond. Discover the world of a man driven to explore and meet the challenges of the deep.
James Cameron – CHALLENGING THE DEEP is a traveling exhibition produced by the Australian National Maritime Museum, in association with the Avatar Alliance Foundation and is toured internationally by Flying Fish.
exhibit programming
Jul 28 @ 10:00 am – 12:00 pm
10:00 am
Join the museum team for some ocean exploration! Each week will feature a read aloud of an ocean themed book (on the half hour) followed by a craft led by one of the museum's engaging educators. All ages are welcome! Storytime is included with museum admission. Reserve your admission time online or call (402) 444-5071. STORYTIME SCHEDULE OF EVENTS: June…
Continue Reading

Current Exhibits
The Durham Museum
Jul 30 @ 10:00 am – 2:00 pm
10:00 am
Gather the family for Deepsea Fridays! Join us for crafts, games, guided tours, giveaways and more. Each Friday will have new activities so you can come back week after week for new adventures. Deepsea Friday activities are included with museum admission. Reserve your admission time online or call (402) 444-5071. 10AM-2PM Crafts, Giveaways & Raffle (while supplies last) 10:30AM Guided…
Continue Reading

Current Exhibits
The Durham Museum
Aug 24 @ 5:00 pm – 7:00 pm
5:00 pm
Calling all classroom teachers! Please join us at The Durham Museum for a teacher workshop celebrating James Cameron – CHALLENGING THE DEEP, which has been extended to remain at the museum through October 3. This on-site session will include a look into how you can bring your class to visit the exhibition and a special tour. Field trip funding is…
Continue Reading

Current Exhibits
Aug 31 @ 6:30 pm – 7:30 pm
6:30 pm
Tucked away in a picturesque seaside village of Cape Cod, Massachusetts, sits a powerhouse of ocean science and innovation. Woods Hole Oceanographic Institution (WHOI) is the world's largest independent organization dedicated exclusively to ocean research, engineering and education. Its mission: to drive discovery and advance understanding of the ocean and its benefits to human society and the planet. In pursuit…
Continue Reading

Current Exhibits
Virtual Event
ADMISSION
Adults: $11.00
Seniors (62+): $8.00
Children (ages 3 – 12): $7.00
Children 2 years and under FREE
Members: FREE!
Advance reservations are encouraged. Members, your free admission discount is applied near the end of the online registration process.
Need help with your reservation or ticket purchase? Watch our "How To" video or view PDF Instructions.

style and speed: passenger liner travel of the 20th century

NOW – October 3, 2021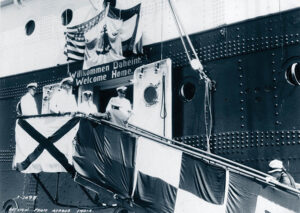 In the early 20th century, passenger liner travel dominated the ocean waves. The rise of luxury ship companies like the White Star Line produced some of the most famous passenger liners in maritime history. Companies competed to outdo each other in luxury and speed. Social elites on either side of the Atlantic enjoyed an unparalleled experience sacrificing no comfort for the voyage. This exhibition presents a brief history of this golden age of transatlantic travel, using local stories such as Emil Brandeis' ill-fated trip aboard the RMS Titanic and local society pages which brought news to Omaha of its citizens' travels abroad.
Photo: Returning from India, 1920-1930, From Photograph Album of Ms. Eugenie Whitmore, The Durham Museum Permanent Collection
Education Alley
Beyond the Vote

NOW – january 30, 2022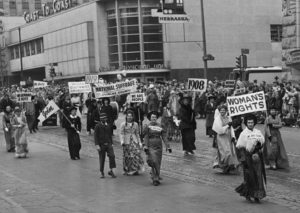 Over 100 years ago, women got the right to vote. The Durham is pleased to present a unique exhibition experience exploring the lasting impact of the 19th Amendment. Beyond the Vote blends iconic images of the past from our partners at the Smithsonian Institution and Library of Congress with original contemporary artwork created by five local artists. The exhibit explores the themes at the heart of the suffrage movement—both for and against—and how those same themes about a woman's place in the world continue to resonate today.
Photo: 1954, John Savage/Omaha-World Herald Collection | The Durham Museum Photo Archive | JS13-045
Featured Artists
Select each artist to learn about them and their exhibit piece.

A

riel Panowicz
Celeste Butler
Nancy Friedemann – Sánchez
Renee' A. Ledesma
Sophie Newell
Byron Reed
wonders and blunders

NOW – october 3, 2021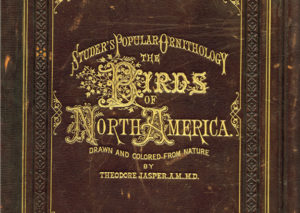 Books and manuscripts will be on display from the Byron Reed Collection to showcase the fantastical designs of early natural history textbooks and travel stories. Scientifically precise drawings of insects with gilded gold wings fill books on the flora and fauna of North America and details abound in the stories brought back by Lewis and Clark of the magnificent bears found across the American West. Yet, it is not all what it seems. Modern readers can look back to these works and see stereotypes or wildly outlandish claims not rooted in science or fact. Today we have the benefit of looking back, but one day our current natural history guides might be in an exhibit of their own.
Photo: Studer's Popular Ornithology | 1881  |  The Byron Reed Collection | MISC 164
Byron Reed
19th century celebrities: a modern translation

NOW – october 3, 2021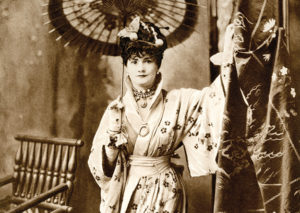 Throughout the 19th century, standards for women were enough to be called rules. She must not only be a woman but be a lady too. To be a lady one must marry and have children, depend on her husband financially and stay out of the public sphere. Some women opposed this thinking, especially those who became performers. This exhibit highlights a few such women who persisted with their art and rose to fame despite the prejudices against them.
Photo: Portrait of Lotta Crabtree  |  circa 1900-1920  |   The Byron Reed Collection  |  BR5C13
Photo Archive Gallery
Sporty Women: The desire to compete

NOW – december 31, 2021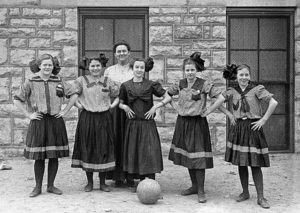 Equal treatment for women in sports is as modern a topic today as it was for women 100 years ago. Concepts of proper lady-like behavior both in actions and dress were present from the early days of female athletics. Using images from The Durham Museum Photo Archive, this exhibit highlights elements of conflicting standards that allowed women to compete in sports if they maintained the appearance of femininity. The selection of images traces changes over time to uniforms and sports women can play while highlighting the long-term conversation about the role of women as athletes.
Photo: Early sporting dress | 1911 | Homer O. Frohardt Collection
The Durham Museum Photo Archive | HOFP-1927