JULIA CHILD: A RECIPE FOR LIFE


NOW – FEBRUARY 11, 2024
Trailblazer. Innovator. Legendary icon.
The Durham Museum is serving up a one of-a-kind interactive exhibition that explores the key ingredients in Julia Child's personal journey, through a series of immersive experiences. Julia's insatiable curiosity and tenacious spirit drove her to endlessly try, test and teach how to make delicious food. Learning to cook empowered Julia, and she empowered others, profoundly transforming American cuisine and food culture in the process.
Take a seat at Julia's table and experience her fearlessness as the exhibition leads you through her formative years, education, as well as her journeys and challenges. Julia Child embraced her authentic self as she pursued her dreams and in turn, inspired her audience to do the same.
Get ready for a journey that will engage all the senses, filled with sights, scents and sounds that bring Julia's kitchen to life. Bon appétit!
Key Experiences:
Interactive The French Chef television set, where visitors can operate a vintage video camera, mix "ingredients" and give their best Julia impression on her WGBH kitchen set!
Video, audio and photography documenting Julia, her distinctive voice, and her extraordinary contributions to the culinary world
Sounds and smells of Julia's kitchen
Visitors can view and share memories of Julia's legacy
Photo ops!
Julia Child: A Recipe for Life is produced and managed by Flying Fish, developed in collaboration with the Napa Valley Museum, under rights granted by The Julia Child Foundation for Gastronomy and the Culinary Arts and Schlesinger Library, Harvard Radcliffe Institute, Harvard University, and generously supported by Oceania Cruises.
---
CHECK OUT THESE "JULIA CHILD: A RECIPE FOR LIFE" PROGRAMS
CREAM OF THE CROP: OMAHA PIONEERS OF THE FOOD SCENE


NOW – FEBRUARY 11, 2024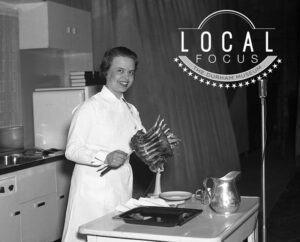 After publishing her book From Julia Child's Kitchen, Julia Child was described "as genuine and earthly as the plains of Nebraska" by reviewer Stephen Schmidt. Nebraska also had its own pioneers of the culinary world who worked to inspire other food fans with simple and enjoyable recipes. North Omaha cateress Helen Mahammitt provided her services for high-profile events and began a cooking school to empower other Black women with skills and confidence as caterers. Just as Mahammitt worked diligently behind the scenes and teaching in the classroom, Martha Bohlsen (pictured) did so through live television. Among the many programs first broadcast on television in Omaha, Bohlsen's focused on meals anyone could prepare at home. Both women's passion for food and sharing their knowledge worked to mold Omaha's future chefs.
WHITE CHRISTMAS – The EXHIBITION


NOW – JANUARY 28, 2024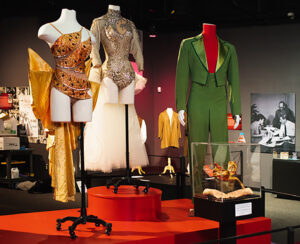 We're dreaming of a white Christmas! The Durham Museum is partnering with the Rosemary Clooney House Museum and private collectors Stephen and Heather French Henry to host White Christmas – The Exhibition. Filled with a resonating patriotic theme supported by unforgettable song and dance routines, Michael Curtiz's musical film White Christmas (1954) became an instant holiday classic.
Experience film costumes created by legendary designer Edith Head and worn by the star-studded cast of Bing Crosby, Rosemary Clooney, Danny Kaye and Vera-Ellen. Don't miss out on iconic costumes such as the blue "Sisters" dresses, Vera-Ellen's sparkling "Mandy" outfit and reproductions of the red dresses from the film's finale. Join us in celebrating the music, costumes and pageantry in an exhibit that is sure to be a highlight of the holiday season!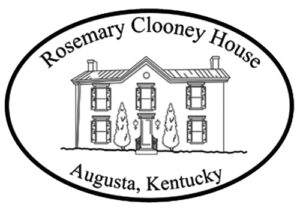 BYRON REED FAVORITES


NOW – DECEMBER 31, 2023
In the late 19th century, Omaha real estate agent Byron Reed gradually put together a stunning collection of coins, documents, books, maps and other items of great historical importance. Upon his death in 1891, Reed gave his collection to the city of Omaha, and it is housed and cared for at The Durham Museum. Only a small portion of his collection is ever on display at any given time, with the rest tucked away for safekeeping. The staff that is charged with caring for these items has chosen some of their favorites from the vault to show you. Their favorites include items related to national history, early Omaha and Byron Reed himself!
It's the Most Wonderful Time of the Year: Christmas at Union Station Photo Archive Display
NOW – JANUARY 7, 2024

The Christmas at Union Station tradition was reborn in 1975 after the Western Heritage Museum opened and brought back the wintertime celebration of a Christmas tree in the Main Waiting Room. Today, The Durham Museum marks the beginning of the holiday season with the arrival and lighting of a massive Christmas tree. Seven photos from the museum's archival and institutional collections feature the various steps that make this event possible. The display also features a LEGO® model of Union Station decorated for the holiday season.
ADMISSION
Adults: $15*
Seniors (62+): $12*
Military/Veteran: $12*
Children (ages 3 – 12): $8*
*PLUS TAX
Children 2 years and under FREE
Members: FREE!
Advance reservations are encouraged, but walk-ins are welcome.
Members, your free admission discount is applied near the end of the online registration process.