Tyrannosaurs: Meet the Family
June 8 -September 1, 2019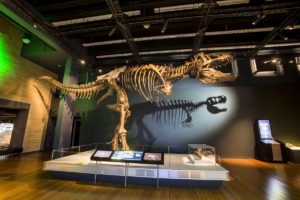 What has 60 razor-sharp teeth, bone-crushing jaws, lived 68 million years ago and will be visiting The Durham Museum next summer? Tyrannosaurus rex…arguably the world's most popular dinosaur!
Tyrannosaurs: Meet the Family is the world's first exhibition showcasing the newly-revised tyrannosaur family tree and shows how this group became the world's top predators with their massive skulls, powerful jaws and bone-crunching teeth. While the most famous member of this family was the mighty T. rex, tyrannosaurs came in all shapes and sizes.
Using cutting-edge technology, this innovative, multimedia experience features more than 10 life-sized dinosaur specimens on display, including one of the oldest tyrannosaurs, Guanlong wucaii. With a dramatic array of fossils and casts of tyrannosaur specimens, Tyrannosaurs – Meet the Family provides a snapshot of dinosaur life. The exhibition was created by the Australia Museum and toured internationally by Flying Fish.
Louder Than Words: Rock, Power & Politics
October 12, 2019 – February 2, 2020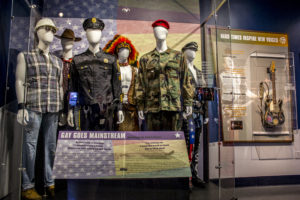 Louder Than Words: Rock, Power & Politics looks at some of the most important debates in our country through the lens of rock music. The exhibit includes exclusive video interviews with people such as Bono and Jimmy Carter, and combines them with interactives, photography and artifacts to examine how music has both shaped and reflected our culture norms on eight political topics: Civil Rights, LGBT Issues, Feminism, War & Peace, Censorship, Political Campaigns, Political Causes and International Politics. The exhibit is organized by presidential administrations – from Eisenhower through Obama – and uses historical context to shed insight into how we view these issues today. Examples of artifacts included in the exhibit are:
Jimi Hendrix's "Star Spangled Banner" Fender Stratocaster from Woodstock
John Lennon's acoustic guitar from the 1969 Montreal and Amsterdam "Bed-ins for Peace"
Correspondence between the FBI and Priority Records regarding N.W.A's "Fight the Power"
Original handwritten lyrics from Bob Dylan's "The Times They Are a- Changin'," Chuck Berry's "School Day," Neil Young's "Ohio," Bruce Springsteen's "Born in the U.S.A" and Green Day's "American Idiot"
Original Village People stage costumes
Artifacts related to the Vietnam war, the May 4, 1970 shooting at Kent State, the fall of the Berlin Wall, and the #BlackLivesMatter movement
Curators from the Rock & Roll Hall of Fame and the Newseum worked with veteran music journalist, author and television producer Bill Flanagan (VH1 Storytellers, CMT Crossroads, CBS News Sunday Morning) to create this unique exhibition.