Louder Than Words: Rock, Power & Politics
October 12, 2019 – February 2, 2020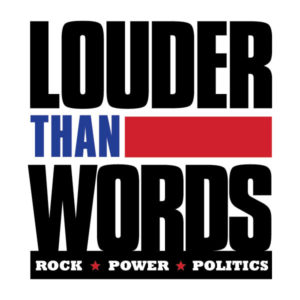 Louder Than Words: Rock, Power & Politics looks at some of the most important debates in our country through the lens of rock music. The exhibit includes exclusive video interviews with people such as Bono and Jimmy Carter, and combines them with interactives, photography and artifacts to examine how music has both shaped and reflected our culture norms on eight topics: Civil Rights, LGBTQ, Feminism, War & Peace, Censorship, Political Campaigns, Political Causes and International Politics. The exhibit is organized by presidential administrations – from Eisenhower through Trump – and uses historical context to shed insight into how we view these issues today. Examples of artifacts included in the exhibit are:
Grace Slick's vest from Jefferson Airplane's performance at the Woodstock Music and Arts Fair in 1969
1966 Fender Telecaster Electric Guitar belonging to Joe Strummer of The Clash
Correspondence between the FBI and Priority Records regarding NWA's song "Straight Out of Compton"
Original handwritten lyrics from Bob Dylan's "The Times They Are a- Changin'," Chuck Berry's "School Day," Neil Young's "Ohio," Bruce Springsteen's "Born in the U.S.A" and Green Day's "American Idiot"
Original Village People stage costumes
Artifacts related to the Vietnam war, the May 4, 1970 shooting at Kent State, the fall of the Berlin Wall, and the #BlackLivesMatter movement
Curators from the Rock & Roll Hall of Fame and the Newseum worked with veteran music journalist, author and television producer Bill Flanagan (VH1 Storytellers, CMT Crossroads, CBS News Sunday Morning) to create this unique exhibition.
---
ADMISSION
Adults: $11.00
Seniors (62+): $8.00
Children (ages 3 – 12): $7.00
Children 2 years and under FREE
Members: FREE!
New! Purchase tickets ahead of time.
Admission purchases made online are not eligible for discounts; this includes $5 After 5.
Some dates have been blacked-out from online purchases due to special events or holidays.
Sorry – no refunds on online admission purchases.

Education Alley
Taking it to the Streets: Grading Downtown Omaha
NOW – June 21, 2020
To combat six major hills in downtown Omaha the city undertook extensive street projects to lower inclines. This work was done throughout the 1880s–1920s with the largest of the projects being the grading of Dodge Street in 1920. In some locations, buildings were brought down to a new level 18 feet lower than the original foundation. Tempers ran high between neighbors going mad with the constant noise, businesses and homes being literally uprooted and some downtown residents even suing the city for damages and lack of sleep. In the end, the grading of Dodge Street cost over one million dollars and moved over 300,000 cubic yards of dirt. Through this photography exhibit, see what all the fuss was about and how times have changed the streets of downtown Omaha.
Photo Archive Gallery
Jobber's Canyon: Omaha's Lost History

Now-January 26, 2020

This exhibition was developed by Durham Museum intern and University of Nebraska at Omaha undergraduate, Adam Barritt.

Omaha's "Jobbers Canyon" was a recognized historic district placed on the National Register of Historic Places in 1987. It was demolished in 1988-89 to clear land for the building of the Conagra Brand's headquarters and is to date one of the largest "lost" historic districts in United States' history. The Nash Block Building is the last remaining structure from this iconic part of Omaha's history.
This local focus exhibition uses images from the museum's Photo Archive to resurrect nine of the businesses and buildings that made this area of Omaha so unique.

Photo: Jobber's Canyon Street View | April 1929 | The Bostwick-Frohardt /KM3TV Collection
The Durham Museum Photo Archive | BF61-149
Byron Reed Gallery
Public Opinion is More Than Law: The First Murder Brought to Court in the Nebraska Territory
Now – March 8, 2020
This exhibition was developed by Durham Museum intern and University of Iowa graduate, Allison Buser.
On April 3, 1855 Charles A. Henry shot George Hollister near the town of Bellevue, shocking the residents of the newly established Nebraska Territory. Highlighting objects from the Byron Reed Collection, this exhibit chronicles the course of events from Hollister's death through Henry's unusual court case and examines the public's role in the outcome of the legal proceedings. The incident illustrates the struggle to carry out legitimate justice in the territory amidst settler notions of popular sovereignty, which sometimes interfered with the early judicial system.
---
SOUND THE ALARM: THE MAKING OF THE OMAHA FIRE DEPARTMENT
Now – March 8, 2020
This exhibition was developed by Durham Museum intern and Creighton University graduate, Alisha Baginski.
The Omaha Fire Department traces its roots to 1860 when the city's first firefighting company was founded. Called the Pioneer Hook and Ladder Company, these men battled fires through muddy, unpaved streets, hand-carrying buckets of water. In its 25 years of operation, the company evolved, added more stations, held annual parades in honor of the firefighters, formed a Fireman's Benevolent Association with neighboring towns and more. Using documents from the Byron Reed Collection this exhibit chronicles the Omaha Fire Department's late 19th century beginnings.