Current Exhibits
American Democracy: A Great Leap of Faith
March 2-June 23, 2019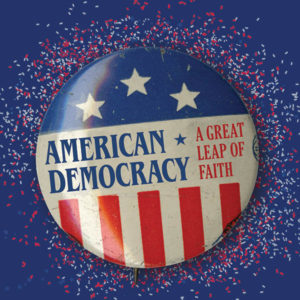 Inspired by the new permanent exhibition at the National Museum of American History, American Democracy: A Great Leap of Faith, explores America's bold experiment in a government "of, by, and for the people." From the Smithsonian Institution, this exhibition is the centerpiece of a high-profile initiative on democracy and civics education. Featuring engaging multimedia experiences, immersive design, and artifacts from the Smithsonian and state historical organizations, American Democracy will demonstrate that democracy relies on our active participation in the quest to form a "more perfect union." Exhibit sections explore the origins of our democracy, the changing identity of eligible voters, the machinery of democracy, the right to petition and protest beyond the ballot, and the rights and responsibilities of citizens.
The premiere venue of this 12-city tour, Durham Museum curators will incorporate local stories and artifacts from our own collections and other state institutions into the exhibition resulting in a unique installation that visitors will not see anywhere else. As an exhibition and catalyst for public programming, American Democracy will inspire audiences, reflect the value of civics education, and spark important discussions that are essential to a healthy democracy.

American Democracy: A Great Leap of Faith was developed by the National Museum of American History and adapted for travel by the Smithsonian Institution Traveling Exhibition Service.
Supported Locally by

Ramona and Deryl Hamann

Media Support Provided by
---
American Experiments
Now – May 18, 2019, Saturdays, 11AM-2PM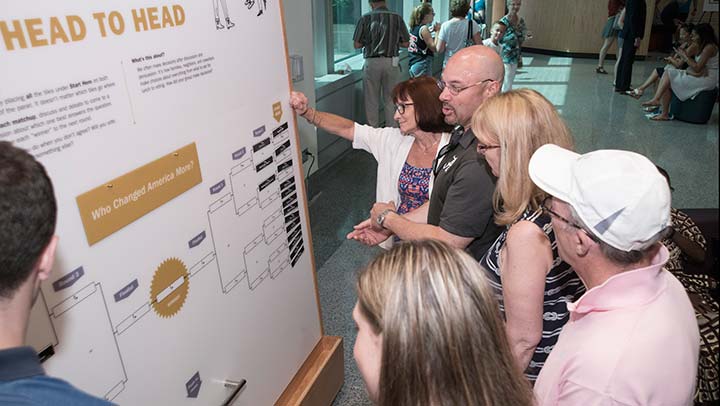 Building a nation together requires conversation, debate, negotiation and compromise. American Experiments is a set of activities that invite you to explore, play and connect with the people around you. Four experiments bring to life the themes of the American Democracy exhibition—participation, commitment, negotiation, voting, protest, and pluralism. You'll reflect on the history of the nation we build together and consider your own role in creating the nation of tomorrow.
We invite you to experiment in this space—join in, play, maybe talk to someone new. There are no right answers here, just an opportunity to share and discuss ideas, and to think about the questions that have faced generations of Americans.
American Experiments was developed in partnership with the Exploratorium, and made possible by a gift from the Julie and Greg Flynn Family Fund.
(American Experiments is also available for private tours and workshops by calling 402-444-5027)
Education Alley
After Promontory: 150 Years of Transcontinental Railroading
March 30-July 28, 2019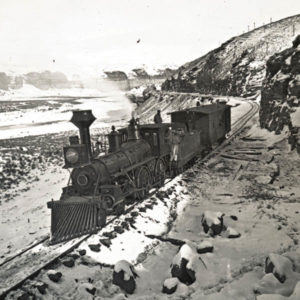 On May 10, 1869, two railroads—built with haste, hope and aspiration—joined in a lonely, dry desert of northern Utah, at a place called Promontory. On that day, dignitaries from both companies—the Central Pacific, which had built from California, and the Union Pacific, which had built from the east—gave speeches and installed ceremonial last spikes.
The ceremonies were meant as a moment of self-congratulation, but the significance of the day's events is far broader. In the ensuing decades, railroad after railroad proposed new, competing transcontinental routes—and sometimes completed them. Their construction swept away the dominance of native tribes, ended the open range, and restructured the West into a network of resources and industries dependent upon clusters of urban centers.
To mark the 150th anniversary of the beginning of this era, the Center for Railroad Photography & Art has launched a special project, After Promontory: 150 Years of Transcontinental Railroading. The exhibition features period photographs by some of the most accomplished photographers in the nation's history, artists such as William Henry Jackson, Timothy H. O'Sullivan, and Carleton E. Watkins, but also recent photography from artists who explore the lasting impact railroads have had on the landscape. At stake in all of these images, both period and more contemporary, is not only the railroad itself as a subject, but how photographers of different eras, with different motivations and different sensibilities, have thought of the transcontinental railroads and their legacy. The Center for Railroad Photography & Art (www.railphoto-art.org) and The Durham Museum have collaborated to present this exhibition.
Photo: Andrew J. Russell, Side cut Green River, Chesebro & Magee #184, 1869, Union Pacific Railroad, Oakland Museum of California

Byron Reed Gallery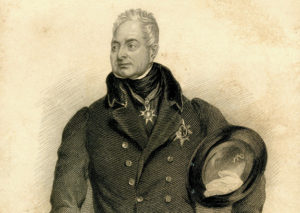 A Regency of Style: Cultural Changes in 18th and 19th Century Europe
Now – July 21, 2019
This exhibition was developed by Durham Museum intern and University of Nebraska at Omaha graduate, Mallory Boyle.
The Regency Era (1795-1830) was a time when enlightenment thought provoked lifestyle and culture changes throughout Europe. The onset of the French Revolution resulted in clothing styles changing seemingly overnight. From having an aristocratic flair to favoring the masses, women's clothing was now tactful and practical, usually a skirt with jacket, or was inspired by classical Greco-Roman ideals, with high-waisted, natural figures in flowing fabrics. Men began wearing trousers and perfectly tailored, unadorned linen suits.
Technology and political shifts allowed people to use clothing as a form of individual expression rather than an indication of social status. Clothing choices now provided insight into both public identities and private selves. This night-and-day change sparked revolutionary thought and represented equality among people. Who would have thought clothing could be so political?
Photo: Portrait of William IV of England | 1765-1837 | The Byron Reed Collection | 25.6
For the People of Omaha: Byron Reed and the Original Omaha Public Library
Now – July 21, 2019
This exhibition was developed by Durham Museum intern and University of Nebraska at Omaha History MA candidate, Sean Summerfelt.
The Omaha Library Association was established in 1857 when Omaha City was only a fledgling three-year-old city. Though this first association was short lived, it amassed a collection of 4,500 books. In 1877 the Omaha City Council appointed a Library Board and levied a tax to create the Omaha Public Library, which began with the same 4,500 books collected by the association.
Omaha's first real estate agent and one of the richest men in the city, Byron Reed was very involved with the library. Upon his death in 1891, he willed land at 18th and Harney Streets to the City of Omaha to create a permanent home for the institution and to also house his collection of 17,000 rare coins, documents, and books for Omaha's citizens. The building was designed by Omaha architect Thomas Kimball and opened its doors in 1894.
This local focus exhibition uses documents and photographs from Byron Reed's collection to explore this iconic partnership between a philanthropic benefactor and the Omaha Public Library.
Photo: Omaha Public Library Building | 18th and Harney Streets | July 7, 1931 |
The Bostwick-Frohardt /KM3TV Collection | The Durham Museum Photo Archive | BF880-026
Photo Archive Gallery
Jobber's Canyon: Omaha's Lost History

This exhibition was developed by Durham Museum intern and University of Nebraska at Omaha undergraduate, Adam Barritt.

Omaha's "Jobbers Canyon" was a recognized historic district placed on the National Register of Historic Places in 1987. It was demolished in 1988-89 to clear land for the building of the Conagra Brand's headquarters and is to date one of the largest "lost" historic districts in United States' history. The Nash Block Building is the last remaining structure from this iconic part of Omaha's history.
This local focus exhibition uses images from the museum's Photo Archive to resurrect nine of the businesses and buildings that made this area of Omaha so unique.

Photo: Jobber's Canyon Street View | April 1929 | The Bostwick-Frohardt /KM3TV Collection
The Durham Museum Photo Archive | BF61-149
Our Favorites: Photo Selections by Durham Museum Interns

Did you know The Durham Museum hosts around 18 interns a year? These students come from different schools, different majors, and different backgrounds, but they do have one thing in common – they love history! As part of their time at The Durham, interns in the Curatorial department digitize photographs from our 1.1 million image Photo Archive. While all of these are unique in some way, there are a few that have made a special impression. This local focus exhibition will highlight just a few of the intern favorites and each student's thoughts about what makes these particular images so special.

Photo: Bear Cub | March 1970 | Robert Paskach /Omaha-World Herald Collection
The Durham Museum Photo Archive | RP-35mm-2504-019