Holiday Cultural Festival
05/03/17
When:
November 30, 2018 @ 5:00 pm – 9:00 pm
2018-11-30T17:00:00-06:00
2018-11-30T21:00:00-06:00
Cost:
Included with Museum Admission (Free for Members!)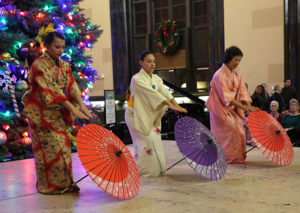 Holiday Cultural Festival (formerly called Ethnic Holiday Festival)
Learn how the world celebrates this joyful time of year during the Holiday Cultural Festival! More than 40 local cultural organizations proudly display their crafts and traditional dress, while musicians and dancers perform throughout the evening. Hard-to-find ethnic foods and gifts will be available for purchase.
Performance Schedule
Suzanne & Walter Scott Great Hall, Main Level
5:15pm Flag Ceremony
5:40pm St. Stanislaus Polish Choir
6:00pm Polka Joy
6:20pm African Culture Connection
6:40pm Nebraska Chinese Association
7:00pm Venezolanos en Omaha
7:20pm Craoi na Tire Irish Dancers
7:40pm Bhavana Arts
8:00pm Dowd's Irish Dance Academy
8:20pm Scandinavian Folk Dancers of Omaha
8:40pm Strathdon Caledonai Pipe Band
Stanley & Dorothy Truhlsen Lecture Hall, Lower Level
5:40pm Heimat Taenzer German Dance Group
6:00pm Flamenco Omaha
6:20pm Mexican Dance Academy of Nebraska
6:40pm Mexican Dance Academy of Nebraska
7:20pm Friends of Japan at UNO
7:40pm Art in Motion
8:00pm St. Nicholas Serbian Orthodox Church Choir
8:20pm JACL Dance Troupe
Confirmed Organizations Participating:
African Culture Connection
JACL Omaha Nebraska Chapter
Scandinavian Midsummmer Festival Omaha
Strathdon Caledonia Pipe Band
Vizion Promotions, LLC
Boys Town, Nebraska
Museum of Danish America
Belgian American Society of Omaha Nebraska
St. John the Baptist Greek Orthodox Church
Dowds Irish Dance Academy
Scandinavian Folk Dancers of Omaha
Polka Joy
Vasa Lodge
Divine Nspirations
The Polish Home Omaha
Santa Lucia Festival Omaha, NE
Arts in Motion
Friends of Japan at UNO
Omaha Sister Cities Association
Nebraska Chinese Association
Czech & Slovak Museum Gift Shop
Omaha Lithuanian American Community
Sons of Norway, Elveby Lodge, Omaha, Nebraska
New American Arts Festival
Adore
Croatian Cultural Society of Omaha
Ancient Order of Hibernians
Bhavana Arts
Burke ROTC
Chaima African Cuisine
Colneb
Craoi na Tire Irish Dancers
Flamenco Omaha
German-American Society
Heimat Taenzer
Hummel Club
Ladies Ancient Order of Hibernians
Mexican Dance Academy of Nebraska
Omaha Czech-Slovak Culture Club
The Scottish Society of Nebraska
The Scottish Society of Nebraska Foundation 
St. David's Welsh Society of Nebraska 
St. Nicholas Serbian Orthodox Church Choir
St. Stanislaus Polish Choir
Ukrainian American Association
Venezolanos en Omaha
Wilber Bakery