Harriet Tubman – Virtual Presentation
09/23/20
When:
March 2, 2021 @ 6:30 pm – 7:30 pm
2021-03-02T18:30:00-06:00
2021-03-02T19:30:00-06:00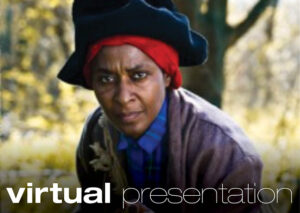 Harriet Tubman, Portrayed by Dr. Daisy Century (Virtual Presentation)
Harriet Tubman couldn't read or write, suffered from epilepsy, was repeatedly threatened, beaten and starved, and emerged from these trials an ardent abolitionist, humanitarian and Union spy during the Civil War. Not content to find freedom herself, Ms. Tubman rescued others from their bondage through the Underground Railroad. After the Civil War, she was active in the struggle for women's suffrage. Joining us from American Historical Theatre in Philadelphia, Dr. Daisy Century captures the intensity of Tubman's faith and the depth of her passion for freedom—for herself and for all who were oppressed. She takes her audience on Tubman's remarkable journey through the underground railroad—from slavery to freedom!
This program is presented to the public as a conclusion to The Durham Museum's Scholars in Residence program celebrating Black History Month. Dr. Century will present virtually to thousands of students across the metro sharing Harriet Tubman's inspiring story.
There is no cost to attend this virtual presentation, but registration is required. Once you have registered, you will be emailed a link to access the program. *Please note: This event occurs at 6:30PM CST.