"Museum Insider" Tour: Collection Storage 2.0
01/15/18
When:
September 29, 2018 @ 10:30 am – 12:00 pm
2018-09-29T10:30:00-05:00
2018-09-29T12:00:00-05:00
Where:
The Durham Museum
801 S. 10th Street
Cost:
Members: $20, Non-Members: $25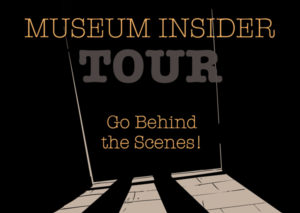 "Museum Insider" Tour Experiences
Don't miss these one-of-a-kind tour experiences and behind-the-scenes with The Durham Museum's Curators and Collection Staff. Don white gloves and your "VIP-Access" badge as we take you to places you've never seen before. These brand new tour experiences will allow our staff to show off more of the amazing artifacts and images as we journey through the museum collection storage areas. Even if you've taken a tour before, we promise you see new things and hear new stories about Omaha's past.
Collection Storage 2.0
If you joined us for our previous "Basement" tour of the museum in May, we promise you'll see and hear brand new content as we explore rooms filled to the brim with Omaha treasures from The Durham's permanent collection. You'll see first-hand technology from Omaha's first radio station, an eclectic key collection from around the world amassed by museum benefactor Charles W. Durham, chandeliers from the Blackstone hotel, original fashion drawings from Brandeis department store, an iron lung from Children's Hospital, and much, much more!
---
Tours are $20 for members and $25 for non-members. Membership discount applies to those in the household. Advance registration and payment are required. Space is limited! Register online (click the TICKETS link above) or email education@DurhamMuseum.org or call us at 402-444-5027.
Interested in more Insider Tours? Check out our Omaha Originals: A Look at Early Omaha Tour.