West Corridor restoration brings back forgotten colors
03/15/23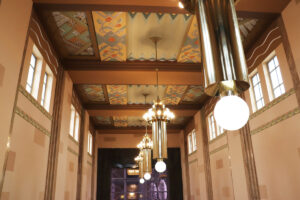 We continue to make progress with the ongoing ceiling restoration project, and visitors can now see some of the finished work for themselves inside the West End Corridor. The most noticeable change you will see on the west end is the dark brown "steps" flanking the beams and framing the ornamental ceiling panels. Those "steps" were previously green.
Why the change? Workers with EverGreene Architectural Arts discovered the original color – dark brown – when looking over the paint stratigraphy, directly above the priming layer. Samples were taken in areas where the plaster appeared to be original and unpatched. The museum and EverGreene found more evidence of the original color through a photograph from the early 1970s. In the photo, the plaster surfaces appear to be old while exhibiting typical cracks and peeling paint, further evidence that the original decorative scheme was dark brown.
You may not notice the slight change, but it is a great example of how the ceiling restoration process can bring back forgotten pieces of our building's long history.
Come see the changes for yourself! Check out more photos here.