Lithograph Stone
06/23/20
During our IMLS grant work, our Collection Facilitator, Haiden Nelson, shares an object from our collection that traces back through Midwest history and finds a mystery yet to be solved.
____________________________________________________________
Here is a curious object! It's small and heavy, cream-colored, with two smooth, flat sides. It is a lithograph stone! These limestone blocks were commonly used pre-WWI to print stationery or art that could be easily reproduced. This block features six little drawings of bank buildings.
Following is a short history of each building and an image of what it looks like today. We need help with the last one though, it was not labeled. Does the sixth bank look like any you have seen in a little Midwestern town?
600 S. Main St., Ohiowa, NE
The settlers from Ohio and Iowa founded this village in 1887. They could not agree on which state to name their new settlement after, so they compromised and decided on Ohiowa. The bank building at 600 S. Main St. now houses a US Post Office. (Photo credit; Google, Jul. 2013)
100 Nebraska Ave., Cody, NE 
Cody was platted in 1886, following the railroad. A railroad foreman, Thomas Cody, had a shack that also functioned as a post office. Mail was taken to Cody's, so in 1886, the town was named Cody. The bank building at 100 Nebraska Ave. is now a Security First Bank. (Photo credit; Wikipedia, Ammadramus 2012)
306 Grandville Ave., Danbury, NE
Danbury, Nebraska was named for Danbury, Connecticut, the birthplace of the town's first postmaster. It was officially incorporated in 1898. The bank building at 306 Grandville Ave. is now a community center. (Photo credit; Google, Jun. 2009)
400 S. 3rd Avenue, Villisca, IA 
Nodaway Valley National Bank, was going to be called Villisca National Bank, according to the printing block. It was located at 400 S. 3rd Avenue, which is now an event space. The bank printed its own money from 1934 through 1935. In 1989, the bank was merged into the Citizens State Bank conglomerate. (Photo credit; Villisca Historical Society, no date)
601 N. Main St., Holstein, IA 
Holstein was founded in 1882 and incorporated on April 25, 1883. Many of the original residents were from Holstein, Germany. The First State Bank, at 601 N. Main St., is currently the location of Cosgrove Law Firm. (Photo credit; Google, Aug. 2012)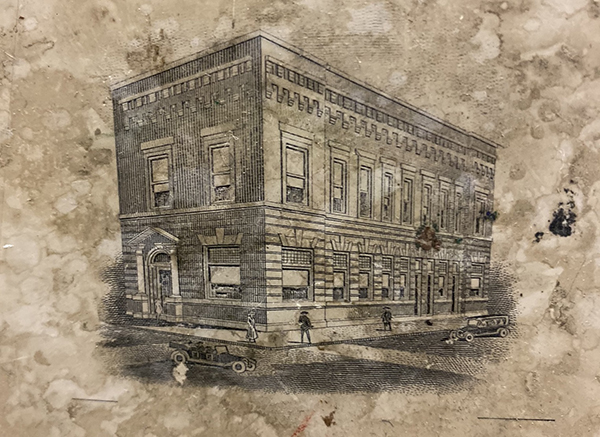 Mystery Bank
This drawing does not have a location written by it, nor is there a name on the building. Does it look like any banks you have seen?
Thanks for reading!
– Haiden Nelson