Flappers and Fizz
01/10/19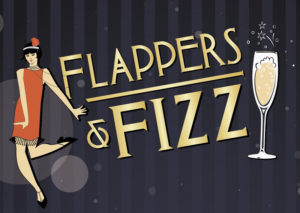 The Durham Museum will host Flappers and Fizz, a 21-and-older event, on Friday, February 22, 2019, from 6-10PM. Don your glad rags and get ready to drink some giggle water, you're invited to a night of flappers, champagne and art deco. Other event features include:
*Play our murder mystery game and see if you can figure out which Omaha mobster got "bumped off" during a night of cards.
*Murder not your game? Dance the Charleston with the Jitterbugs and listen to some 20s jazz instead.
*And if you're lucky, you may even find your way to the secret speakeasy, hidden in the museum.
*Each ticket receives entry to the event, heavy hors d'oeuvres, one drink ticket and a mystery game packet.
So grab that flapper dress and your dancing shoes, this night is going to be the bee's knees! Tickets are available on our website at DurhamMuseum.org/FlappersAndFizz or by calling 402-444-5071. Must be 21 or older to attend.
Cost: $30 Museum Members, $35 Non-Members, $40 at the door