Virtual Lecture with Dr. Robert Ballard
05/05/21
When:
June 10, 2021 @ 6:30 pm – 7:30 pm
2021-06-10T18:30:00-05:00
2021-06-10T19:30:00-05:00
The Durham Museum is pleased to announce that Dr. Robert Ballard will be joining us for a virtual lecture this summer.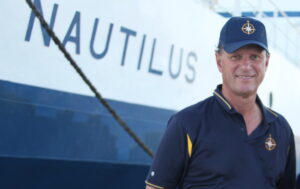 Among the most accomplished and well known of the world's deep-sea explorers, Dr. Ballard is best known for his historic discoveries of hydrothermal vents, the sunken RMS Titanic, the German battleship Bismarck and numerous other contemporary and ancient shipwrecks around the world. During his long career he has conducted more than 150 deep-sea expeditions using the latest in exploration technology.
There is no cost to attend this virtual presentation, but registration is required. Once you have registered, you will be emailed a link to access the program. (Select the burgundy ticket icon above to register. Please note: your online reservation is not complete until you've clicked the "Check Out" button.)
**Please note: This event occurs at 6:30PM CST**
Have questions? Call 402-444-5071 or email reservations@DurhamMuseum.org.