Rise of the Tyrants – A family-focused presentation!
05/08/19
When:
June 15, 2019 @ 10:30 am – 11:30 am
2019-06-15T10:30:00-05:00
2019-06-15T11:30:00-05:00
Where:
The Durham Museum
801 S. 10th St
Omaha
NE 68104

Cost:
Included with Museum Admission (Free for Members!)
Contact:
Reserve Your Seat Online (pay on arrival)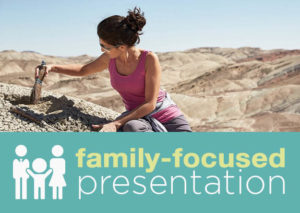 During the last 15 million years of the Cretaceous, Tyrannosaurs reigned over North American ecosystems evolving a lethal combination of colossal size, exceptional bite forces, accelerated growth rates and sophisticated sensory systems. Yet, they weren't always king of the food chain. When Tyrannosaurs first roamed North America, they were but players on the Cretaceous stage. Join Dr. Lindsay Zanno as she introduces her team's newest discovery, a tiny Tyrannosaur named Moros that roamed what is now Utah during the dawn of the Late Cretaceous.
Reservations are required and regular museum admission applies; free for members. Reserve your seat online, then pay when you arrive at the event. (Select the burgundy ticket icon above to register. Please note: your online reservation is not complete until you've clicked the "Check Out" button.)
Have questions? Call 402-444-5071 or email reservations@DurhamMuseum.org.
---
Interested in attending Dr. Zanno's afternoon lecture? CLICK HERE
---
Dr. Lindsay Zanno is Head of Paleontology at the North Carolina Museum of Natural Sciences and Assistant Research Professor in the Department of Biological Sciences at North Carolina State University. Zanno received a B.S. in Biological Anthropology (summa cum laude) from the University of New Mexico, followed by a M.S. and a Ph.D. in Geology from the University of Utah. She was subsequently awarded the John Caldwell-Meeker and Bucksbaum Young Scientist Postdoctoral Fellowships at the Field Museum in Chicago, IL.
Despite over 20 years of global expedition experience, Zanno has a soft spot for the American West from where she has discovered many new species, including Siats, one of the largest meat-eating dinosaurs on the continent, and Moros, North America's tiniest tyrannosaur.
Zanno's research garners worldwide media attention and has been featured by notables such as the Science Channel, History Channel, National Geographic, CBC, PBS, NPR, NHK and the BBC, among others.