Newspapers & Butter Pecan Ice Cream: Mrs. Mildred Brown and the Omaha Star
05/22/18
When:
August 7, 2018 @ 6:30 pm – 8:30 pm
2018-08-07T18:30:00-05:00
2018-08-07T20:30:00-05:00
Where:
The Durham Museum
801 S. 10th Street
Omaha NE 68108
Cost:
Included with Museum Admission. Summer promotion! Only $5 per person; free for members
Contact:
Reserve Your Seat Online (pay on arrival)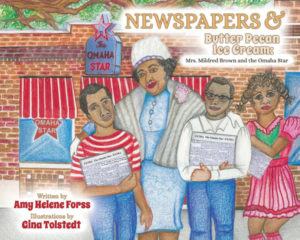 Children's story time and craft — most appropriate for school age children, but all are welcome
Attention Parents! Bring your kids to the museum on a Tuesday night and explore the history of Omaha's longest running black newspaper, the Omaha Star. Education staff members will lead a story time featuring Dr. Amy Forss's book Newspapers & Butter Pecan Ice Cream: Mrs. Mildred Brown and the Omaha Star. Butter pecan ice cream will even be served! 
Mildred Brown, African American co-founder of the Omaha Star newspaper was a city role-model and leader. Mrs. Brown challenged racism and employment discrimination. She asked readers to spend their money at non-discriminating stores. Businesses, such as Reed's Ice Cream with its locations throughout Omaha, had a city-wide policy of not hiring African Americans. Through the newspaper distribution efforts of young Omaha Star carriers and the De Porres Club's picketing of Reed's, Mrs. Brown was able to lead a successful boycott campaign. For the boys and girls selling the Star it taught them how to make change happen.  
After a story time, children will engage in curriculum based craft activities related to the book. Following both this activity time and the adult lecture, Dr. Forss will be available to sign both books in the Suzanne and Walter Scott Great Hall.
---
Parents can join Dr. Amy Forss for her lecture while kids enjoy storytime!
For more information about the 80 Years of the Omaha Star lecture and to register click HERE
---
Amy Helene Forss serves as Metropolitan Community College's History program chair. She has a PhD in African American History from the University of Nebraska at Lincoln. Her first book, Black Print with a White Carnation: Mildred Brown and the Omaha Star Newspaper, 1938-1989, was published by the University of Nebraska Press in 2014. In 2017, Newspapers & Butter Pecan Ice Cream, a children's picture book adaptation of her first book was published for 3rd graders. Currently, she is writing, Borrowing from our Foremothers, a comparison of suffragist visual rhetoric imitated by modern day feminists. It will be published by University of Nebraska Press in 2020.