Letters of Love, Longing, and Loss in World War I
05/16/18
When:
September 18, 2018 @ 6:30 pm – 7:30 pm
2018-09-18T18:30:00-05:00
2018-09-18T19:30:00-05:00
Where:
The Durham Museum
Stanley and Dorothy Truhlsen Lecture Hall
Cost:
Included with Museum Admission (Free for Members!)
Contact:
Reserve Your Seat Online (pay on arrival)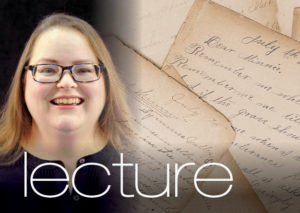 With few other forms of communication readily available a century ago, letters were a lifeline for maintaining relationships and hope during World War I. Americans sent millions of packages, postcards and missives in an effort to stay connected. Wartime conditions strained the postal service, brought about mailing restrictions and censorship, and greatly affected how civilians and military service members wrote and received letters. A discussion of selected correspondence from the National Postal Museum's exhibition My Fellow Soldiers: Letters from World War I provides unique perspectives on the war that brought America onto the world stage, raised complex questions about gender, race and ethnic relations, and ushered in the modern era.
Lynn Heidelbaugh, curator at the Smithsonian's National Postal Museum, specializes in collections and research on the history of the U.S. Postal Service, military mail, letters and letter writing culture, as well as business and tourism history. Several of her projects have focused on historic letters, including temporary exhibitions: My Fellow Soldiers: Letters from World War I, In Her Words: Women's Duty and Service in World War I, Victory Mail: V-Mail of World War II, and War Letters: Lost and Found. Her exhibition work also includes: Behind the Badge: The U.S. Postal Inspection Service, and Mail Call, which is both a gallery at the National Postal Museum and a Smithsonian Institution Traveling Exhibition Services program that has toured to over 18 venues since 2012. Ms. Heidelbaugh is currently working on researching and writing about postal clerks and mail operations during the First World War.
Reservations are required and regular museum admission applies; free for members. Reserve your seat online, then pay when you arrive at the event. Have questions? Call 402-444-5071 or email reservations@DurhamMuseum.org.