For the People of Omaha: Byron Reed and the Original Omaha Public Library
01/21/19
When:
June 13, 2019 @ 10:00 am – 5:00 pm
2019-06-13T10:00:00-05:00
2019-06-13T17:00:00-05:00
Where:
The Durham Museum
801 S 10th St
Omaha
NE 68108

Cost:
Exhibits are included with Regular Museum Admission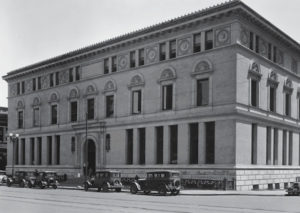 Now – July 21, 2019
This exhibition was developed by Durham Museum intern and University of Nebraska at Omaha History MA candidate, Sean Summerfelt.
The Omaha Library Association was established in 1857 when Omaha City was only a fledgling three-year-old city. Though this first association was short lived, it amassed a collection of 4,500 books. In 1877 the Omaha City Council appointed a Library Board and levied a tax to create the Omaha Public Library, which began with the same 4,500 books collected by the association.
Omaha's first real estate agent and one of the richest men in the city, Byron Reed was very involved with the library. Upon his death in 1891, he willed land at 18th and Harney Streets to the City of Omaha to create a permanent home for the institution and to also house his collection of 17,000 rare coins, documents, and books for Omaha's citizens. The building was designed by Omaha architect Thomas Kimball and opened its doors in 1894.
This local focus exhibition uses documents and photographs from Byron Reed's collection to explore this iconic partnership between a philanthropic benefactor and the Omaha Public Library.
Photo: Omaha Public Library Building | 18th and Harney Streets | July 7, 1931 |
The Bostwick-Frohardt /KM3TV Collection | The Durham Museum Photo Archive | BF880-026