Who's Buried in 'Philip's Tomb'?
08/14/17
When:
November 14, 2017 @ 6:30 pm – 7:45 pm
2017-11-14T18:30:00-06:00
2017-11-14T19:45:00-06:00
Where:
The Durham Museum
801 S 10th St
Omaha
NE 68108

In northern Greece on November 8, 1977, Manolis Andronikos opened an unlooted tomb, revealing spectacular grave goods. Soon, he announced that not only had he found the tombs of ancient Macedonian royalty, but the bones of Philip II, father of Alexander the Great. Yet, cracks in that identification soon appeared and forty years later, secure identification still remains elusive. In honor of the 40th anniversary of this momentous discovery, Dr. Jeanne Reames will present the evidence and attempt to uncover the answer of just who was buried in 'Philip's Tomb'?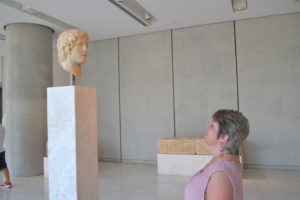 Dr. Jeanne Reames teaches Greek and Ancient Near Eastern history at the University of Nebraska-Omaha, where she also serves as director of the Ancient Mediterranean Studies Program and Graduate Program Chair for the History Department.
Reservations are required and regular museum admission applies; free for members. Reserve your seat online, click the "Tickets" button above, then pay when you arrive at the event. Have questions? Call 402-444-5071 or email reservations@DurhamMuseum.org.