Tyrannosaurs: Meet the Family
01/21/19
When:
June 14, 2019 @ 10:00 am – 5:00 pm
2019-06-14T10:00:00-05:00
2019-06-14T17:00:00-05:00
Where:
The Durham Museum
801 S 10th St
Omaha
NE 68108

Cost:
Exhibits are included with Regular Museum Admission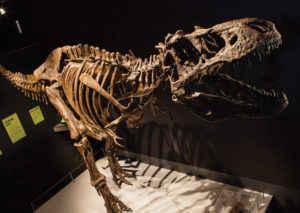 Exhibit on Display June 8 – September 1, 2019
What has 60 razor-sharp teeth, bone-crushing jaws, lived 68 million years ago and will be visiting The Durham Museum this summer? Tyrannosaurus rex…arguably the world's most popular dinosaur!
Tyrannosaurs: Meet the Family is the world's first exhibition showcasing the newly-revised tyrannosaur family tree and shows how this group became the world's top predators with their massive skulls, powerful jaws and bone-crunching teeth. While the most famous member of this family was the mighty T. rex, tyrannosaurs came in all shapes and sizes.
Using cutting-edge technology, this innovative, multimedia experience features more than 10 life-sized dinosaur specimens on display, including one of the oldest tyrannosaurs, Guanlong wucaii. With a dramatic array of fossils and casts of tyrannosaur specimens, Tyrannosaurs: Meet the Family provides a snapshot of dinosaur life.
---
---
Supported Locally by
| | | |
| --- | --- | --- |
| | | Media Support Provided by |