Titanic Artifacts: Where Are They Now? (Virtual and On-Site Options)
07/15/21
When:
September 21, 2021 @ 6:30 pm – 7:30 pm
2021-09-21T18:30:00-05:00
2021-09-21T19:30:00-05:00
Contact:
The Durham Museum
402-444-5071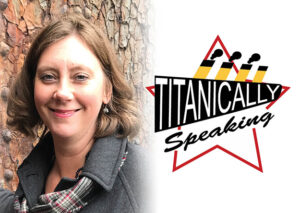 September 1, 2021, marks the 36th anniversary of the discovery of the Titanic. Hear about the controversial retrieval and display of RMS Titanic artifacts, and learn about the journey of the 5,500 Titanic artifacts from their retrieval off the ocean floor to their display in worldwide exhibits. Understand the plight they faced in 2018 and where they are today. Experience how Titanic still makes the news 109 years after the tragedy. For those attending in person, a table of Titanic collectibles will be viewable before and after the presentation along with a book signing for Titanic Today by speaker Sheryl Rinkol.
IN PERSON OR VIRTUAL—YOU CHOOSE!
In-person Option: If you wish to attend the lecture at the museum, regular museum admission applies; free for members. Registration is required.
Virtual Option: There is no cost to attend our virtual presentations, but registration is required. Once you have registered, you will be emailed a link to access the program.