Thomas Jefferson and Alexander Hamilton: Conflict and the Constitution — SOLD OUT!
05/16/18
When:
September 11, 2018 @ 6:30 pm – 7:30 pm
2018-09-11T18:30:00-05:00
2018-09-11T19:30:00-05:00
Where:
The Durham Museum
Stanley and Dorothy Truhlsen Lecture Hall
Cost:
Included with Museum Admission (Free for Members!)
Contact:
Reserve Your Seat Online (pay on arrival)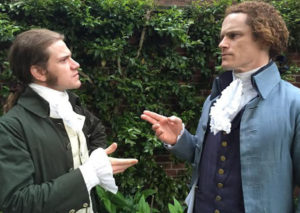 Update 8/31: **SOLD OUT** Please contact us to be put on a waiting list.
A meeting and debate between two of the most controversial founding fathers, Jefferson and Hamilton, in which discussions center on the topics most relevant to their day and to ours: State versus Federal authority in government, the framing of the Constitution and its interpretation, the establishment of the First National Bank and its constitutionality, and the people's voice in government.
The differing viewpoints between Jefferson and Hamilton about the success or failure of the Articles of Confederation and the proper foundations of a new government foreshadow the establishment of our two-party system. Alexander Hamilton and Thomas Jefferson Interpreters engage in a lively debate that exposes and explains the weaknesses of the Articles of Confederation and illuminates the impetus behind the move toward a Constitutional Congress and the resultant drafting of the Constitution.
This performance will examine the need for balance between State's rights and a centralized government while giving the audience a taste of what the negotiations were really like. Throughout the evening we come to see how the relationships between key figures, and the need for compromise, between two opposing factions resulted in the development of the imperfect, but ever evolving, government we have today.
Reservations are required and regular museum admission applies; free for members. Reserve your seat online, then pay when you arrive at the event. Have questions? Call 402-444-5071 or email reservations@DurhamMuseum.org.
A special invitation from thomas Jefferson