The Great War: 100 Years On
08/02/18
When:
November 6, 2018 @ 6:30 pm – 7:30 pm
2018-11-06T18:30:00-06:00
2018-11-06T19:30:00-06:00
Cost:
Included with Museum Admission (Free for Members!)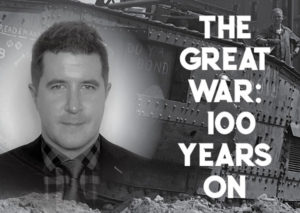 This autumn marks one hundred years since the armistice was signed to end fighting in the Great War. Surpassing all previous battles in terms of scope and horror, the war ushered in modern combat and revealed to the world the destructive capability of industrial societies. As the turning point of the twentieth century, it ended the reign of a number of empires, it redrew political boundaries and it created much of the instability that led to another global conflict. One hundred years later, what is the legacy of the Great War? This talk will discuss both the short and long term impact of the war.
Dr. Mark Celinscak is the Louis and Frances Blumkin Professor of Holocaust and Genocide Studies and the Executive Director of the Sam and Frances Fried Holocaust and Genocide Academy at the University of Nebraska at Omaha. He is a historian of twentieth century Britain and Europe, specializing in war, Holocaust and genocide studies. Dr. Celinscak is the author of the award-winning Distance from the Belsen Heap: Allied Forces and the Liberation of a Nazi Concentration Camp, a work which re-examines the surrender and relief of the Bergen-Belsen concentration camp in northwest Germany at the end of the Second World War.
Reservations are required and regular museum admission applies; free for members. Reserve your seat online, then pay when you arrive at the event. (Select the burgundy ticket icon above to register. Please note: your online reservation is not complete until you've clicked the "Check Out" button.)
Please note: Due to maintenance repairs, the lower level entrance will not be open for this lecture.  We apologize for the inconvenience.
Have questions? Call 402-444-5071 or email reservations@DurhamMuseum.org.