The 1898 Trans-Mississippi Exposition: Why Naked Ladies Matter
05/22/18
When:
June 26, 2018 @ 6:30 pm – 7:30 pm
2018-06-26T18:30:00-05:00
2018-06-26T19:30:00-05:00
Where:
The Durham Museum
Stanley and Dorothy Truhlsen Lecture Hall
Cost:
Included with Museum Admission. Summer promotion! Only $5 per person; free for members
Contact:
Reserve Your Seat Online (pay on arrival)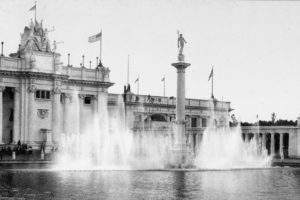 In honor of the 120th anniversary of Omaha's Trans-Mississippi and International Exposition, Dr. Emily Godbey will examine one of the more racy topics related to the event: the prevalence and celebration of scantily clad or fully nude women. How did nudity play out throughout the course of the fair? She will consider how the concept of the nude was accepted at the time and what was considered "artistic" nudity versus what was considered "impolite" nudity. Dr. Godbey will also include references to The Durham's own "Trilby" and place it in the context of the larger "Trilby"- artistic style of the time period.
Dr. Emily Godbey, PhD is Associate Professor at Iowa State University. She earned an MA and PhD from the University of Chicago, and an MFA at the Rhode Island School of Design. Her primary body of work deals with the ideas of tragedy and mourning, but her research interests includes the intersection of image-making with modernity which includes research on photography, early film and American painting. Godbey also works on projects dealing with communication at the turn of the 20th century via postcards, visuality and World's Fairs. One of her most recent publications was "Trilby Goes Native: The Westernization of an International Hit" in The Trans-Mississippi Exposition of 1898: Art, Anthropology and Popular Culture, edited by Wendy Katz and published by the University of Nebraska Press in 2015.
Reservations are required. Summer promotion! Only $5 per person; free for members. Reserve your seat online, then pay when you arrive at the event. Have questions? Call 402-444-5071 or email reservations@DurhamMuseum.org.