Railroad Days
05/03/17
When:
July 14, 2018 @ 9:00 am – 5:00 pm
2018-07-14T09:00:00-05:00
2018-07-14T17:00:00-05:00
Contact:
For full details visit the Railroad Days website: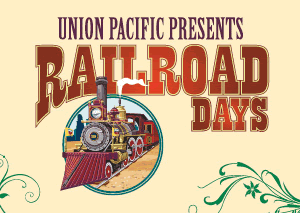 An annual celebration of all things train & track!
Saturday, July 14, and Sunday, July 15, 2018

For this year's Railroad Days, "Freight Train" Frank will be back at The Durham playing railroad songs, so sit back and enjoy the music or grab an instrument and get in on the fun! Visit House of Trains on Track Level to view model trains and have the chance to speak one-on-one with model railroad experts. New this year… The Swanson Gallery will be transformed to one of the largest model railroad displays we have ever had! Missouri Valley Free-Mo will be here with Model Railroaders from Nebraska, Iowa, Kansas and Minnesota to setup scenes depicting actual locations in the Midwest. You won't want to miss it! Plus, get up-close to Union Pacific's  Chicago & North Western Heritage Locomotive located behind the museum on track level.
Thanks to the generous support of the Union Pacific Corporation and a grant from the Iowa West Foundation, a family pass for Railroad Days is only $15! One $15 pass admits two adults and your dependent children or two grandparents and up to four grandchildren, for both days. A $5 pass is also available for one additional adult with purchase of a family pass. This includes trolley or bus transportation between locations and all the special activities that each location has to offer.
About the Locomotive:
The Chicago & North Western locomotive is the fifth unit in the heritage fleet and was unveiled at the Ogilvie Transportation Center in Chicago on July 15, 2006.
About the Railroad:
The Chicago & North Western railroad was a road of contrasts — serving Chicago commuters, Michigan iron mines and Illinois coal fields. It amassed a sprawling network of branch lines throughout the Midwest and established the industry's first safety campaign by coining the phrase "Safety First."
The line also was a key link between Chicago and the West. Chicago & North Western was the first railroad to connect with Union Pacific at Council Bluffs in 1867, and in 1984, partnered with UP to open a connector line to the coal fields in Wyoming's Powder River Basin – enabling the region to become a major U.S. energy source. The Chicago & North Western and Union Pacific merged in 1995.
For FAQs and venue information visit www.omaharailroaddays.com.