Pocahontas and the Powhatan Dilemma
02/21/18
When:
July 24, 2018 @ 6:30 pm – 8:00 pm
2018-07-24T18:30:00-05:00
2018-07-24T20:00:00-05:00
Where:
The Durham Museum
801 S. 10th Street
Cost:
Included with Museum Admission. Summer promotion! Only $5 per person; free for members
Contact:
Reserve Your Seat Online (pay on arrival)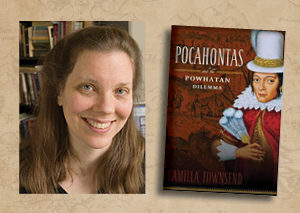 Differing from all previous biographers of Pocahontas, Camilla Townsend captures how similar seventeenth century Native Americans were–in the way they saw, understood, and struggled to control their world—not only to the invading British but to ourselves.
Neither naïve nor innocent, Indians like Pocahontas and her father, the powerful king Powhatan, confronted the vast might of the English with sophistication, diplomacy, and violence. Indeed, Pocahontas's life is a testament to the subtle intelligence that Native Americans, always aware of their material disadvantages, brought against the military power of the colonizing English. Resistance, espionage, collaboration, deception: Pocahontas's life is here shown as a road map to Native American strategies of defiance exercised in the face of overwhelming odds and in the hope for a semblance of independence worth the name.
Pocahontas emerges–as a young child on the banks of the Chesapeake, an influential noblewoman visiting a struggling Jamestown, an English gentlewoman in London–for the first time in three-dimensions; allowing us to see and sympathize with her people as never before.
Camilla Townsend is Professor of Native American History at Rutgers University in New Jersey. She is the author of numerous books, among them Pocahontas and the Powhatan Dilemma (2004) and most recently, Annals of Native America (2016). She has been a Guggenheim Fellow and this year holds a Public Scholar Award from the National Endowment for the Humanities.
---
Reservations are required. Summer promotion! Only $5 per person; free for members. Reserve your seat online, then pay when you arrive at the event. Have questions? Call 402-444-5071 or email reservations@DurhamMuseum.org.