Nebraska Purple Heart Flight – Welcome Home Celebration
05/10/19
When:
May 24, 2019 @ 8:30 pm – 10:00 pm
2019-05-24T20:30:00-05:00
2019-05-24T22:00:00-05:00
Where:
The Durham Museum
801 S. 10th Street
Nebraska Purple Heart Flight – Welcome Home Celebration
Doors Open – 8:30PM
Parade Starts – Approx. 9PM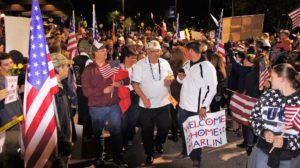 Bring your children, grandchildren, friends, neighbors, flags, signs, and patriotism to cheer and welcome home our beloved Veterans and Gold Star Children, who will board trolleys on the tarmac at Eppley Airfield upon their return from Washington, D.C. They will complete the parade in downtown Omaha on 10th Street from Jackson Street to the Durham Museum to be welcomed by family and friends, just like veterans returning by train in days gone by.
Approximate time of the parade will be 9:00 pm. Bring a picnic and tailgate while you make your signs, or support the Old Market restaurants and food trucks that will be in the area. The parade will include the Millard Legion Post #374 Color Guard, Omaha Police & Fire Department Bagpipes & Drums, classic cars, motorcycles, and horses…this will be an event you and your family will always remember! And so will our veterans.
For more information visit https://www.patrioticproductions.org/nphf-itinerary