Mid-Western Missions: Agents and Expeditions
05/03/17
When:
September 16, 2017 @ 10:00 am – 5:00 pm
2017-09-16T10:00:00-05:00
2017-09-16T17:00:00-05:00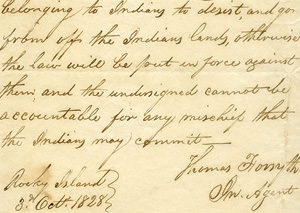 Mid-Western Missions: Agents and Expeditions
July 1, 2017 – January 14, 2018
Developed by Durham Museum Intern and University of Nebraska at Omaha undergraduate, Mallory Boyle
In 1803, the United States doubled in size with the Louisiana Purchase.  Settlers making their way into this new territory encountered thousands of people who already lived there. The U.S. government looked for ways, sometimes peaceful, mostly not, to negotiate trade with the Native Americans. Cooperation with Indian Agents gave privileges and protections to willing tribes. These agents informed the government of the concerns and problems experienced by their assigned tribe and were responsible for educating the tribe on government policies and laws. By cooperating with the government, it was expected that the tribe would follow government laws, and would have to pay the consequences if any laws were broken. Through documents in the Byron Reed Collection, trace the interactions of the U.S. government with the Indian Agents and explore these early tribal relations.