Free Admission Week: Cheers to 90 Years!
10/05/21
When:
November 8, 2021 @ 10:00 am – 4:00 pm
2021-11-08T10:00:00-06:00
2021-11-08T16:00:00-06:00
Where:
The Durham Museum
801 S. 10th St Omaha
NE 68108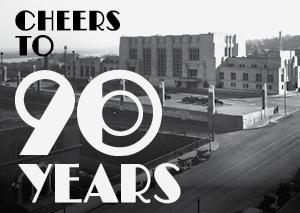 In celebration of the 90-year anniversary of our home, Union Station, The Durham Museum will open its doors to the public for free Sunday through Saturday, November 7-13. There will be special activities throughout the week…more details coming soon.
Cheers to 90 Years!
Join us as we rekindle the community spirit that welcomed Union Station into service in 1931 (90 years ago). It was in a dedication ceremony on January 15, 1931, that Omaha's new Union Station was officially unveiled. Afterwards, visitors streamed through the doors, greeted by rosy rays of light from stained-glass windows and modern Art Deco details galore. Omaha residents responded enthusiastically to the completion of "their" new Union Station, the building The Durham Museum now calls home. The optimism and excitement of the city was reflected in some 50,000 citizens who came to see the building on its opening day. In 1931, every citizen of Omaha was invited to come see the new Union Station and nine decades later, we want to invite every citizen back once again.
---
Veteran's Day – Thursday, November 11
As part of our free "Cheers to 90 Years" celebration, Veterans can also enjoy a FREE hot dog meal at the Soda Fountain. The Durham Museum proudly supports our Veterans!