SOLD OUT – Franklin Delano Roosevelt's Arsenal of Democracy
01/17/19
When:
March 3, 2019 @ 2:00 pm – 3:00 pm
2019-03-03T14:00:00-06:00
2019-03-03T15:00:00-06:00
Cost:
Included with Museum Admission (Free for Members!)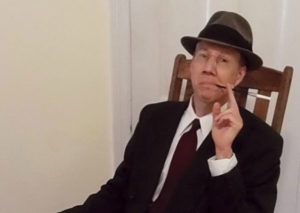 UPDATE 3/3/19 – This event is sold out.
The date is December 29, 1940. Franklin Delano Roosevelt has just been re-elected to an unprecedented third term in office. But the world is in a crisis. Nazi Germany has blazed a path of destruction across Europe, and America may soon be drawn into war. Watch this famous moment come to life, as you meet with the President just prior to his delivery of the famous Arsenal of Democracy speech. Learn what President Roosevelt was thinking, and listen to his plea for the support of our Allies. Neill Hartley is Franklin Delano Roosevelt in this fully staged historical presentation that will entertain and educate audiences from school age to adult. Following the presentation, there will be time for comments and questions with one of the most influential presidents of all time.
Actor, Director, Spokesperson and Teacher, Neill Hartley earned a Master of Fine Arts from Temple University in Acting and was a faculty member there from 1989-2000. Since 1994 he has been teaching Speech & Voice at the University of the Arts and is a speech and dialect coach for several professional theaters. As an actor he has performed with Arden Theater, InterAct Theatre, and the Philadelphia Shakespeare Festival, among others. Mr. Hartley won a Barrymore Award for Ensemble for 1812 Productions' Batboy, The Musical. Neill is also a busy director for theaters which include Philadelphia Young Playwrights, University of the Arts, University of Pennsylvania, Arcadia University, Isis Productions, the Brick Theater and the Luna Theater.
Reservations are required and regular museum admission applies; free for members. Reserve your seat online, then pay when you arrive at the event. (Select the burgundy ticket icon above to register. Please note: your online reservation is not complete until you've clicked the "Check Out" button.)
Have questions? Call 402-444-5071 or email reservations@DurhamMuseum.org.