Double Victory: The African American Military Experience
01/15/18
When:
February 27, 2018 @ 6:30 pm – 8:30 pm
2018-02-27T18:30:00-06:00
2018-02-27T20:30:00-06:00
Where:
The Durham Museum
801 S. 10th Street
Cost:
Included with Museum Admission (Free for Members!)
Contact:
Reserve Your Seat Online (pay on arrival)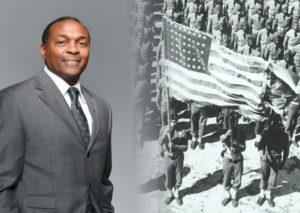 Dr. Krewasky Salter, (Guest) Associate Curator at the National Museum of African American History and Culture will use the traveling exhibition, Fighting for the Right to Fight: African American Experiences in WWII, as a foundation to discuss the overarching experiences of African Americans during the World War II era. His personal military experiences, as well as his curation of the gallery exhibition, Double Victory: The African American Military Experience, at the Smithsonian, NMAAHC, will enhance the presentation and discussion.
Dr. Krewasky A. Salter is a United States Army Colonel (Ret.) and Founder, President and CEO of 4K Enterprises, LLC—an Academic Research and Development small business. He is a (Guest) Associate Curator, Project Historian and Military Subject Matter Expert at the Smithsonian Institution, National Museum of African American History and Culture (NMAAHC), where he curated the inaugural exhibition titled: Double Victory: The African American Military Experience which opened Fall 2016, and is a contributing author and advisor to three of NMAAHC's most recent publications. Salter is also the Associate Producer and Senior Historian for the United States Army-sponsored documentary titled: Unsung Heroes: The Story of America's Female Patriots which began airing on the Public Broadcasting Service in May 2014. He wrote The Story of Black Military Officers, 1861 – 1948, published in 2014 and has more than nine other publications and documentary credits. He has over seven years of academic experience, including teaching Military History at the United States Military Academy, West Point; Military Strategy at the Command and General Staff College, Leavenworth; Military Leadership at Howard University, Washington, D.C.; and African American History at several other institutions as an adjunct professor.
Krewasky holds a Bachelor of Science from the University of Florida, where he was a Distinguished Military Graduate, a Master of Strategic Studies from the Air War University, and an M.A. and Ph.D. from Florida State University where he studied Military History and African American History. A trained United States Army Airborne Ranger who commanded at every level through battalion, Dr. Salter served as a senior staff officer at the Pentagon before retiring from the military.
Reservations are required and regular museum admission applies; free for members. Reserve your seat online, then pay when you arrive at the event. Have questions? Call 402-444-5071 or email reservations@DurhamMuseum.org.