Celebrate Black History Month
01/15/20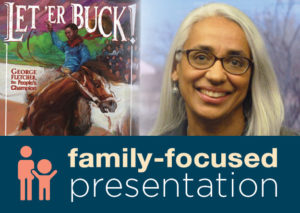 The books written by award-winning children's author Vaunda Micheaux Nelson are inspired by a belief her Great-Uncle Lewis instilled in her—that if you don't know your history, you can't truly know who you are. Join Micheaux Nelson for a family-friendly presentation and book reading that shines a light on the multicultural stories she wishes she had growing up—stories that she now writes. Inspired by real people and places, her books have the power to touch young readers in a positive, permanent way.
Her book reading at The Durham will feature her two nonfiction books set in the Old West, both of which are available for purchase at The Gilbert M. & Martha H. Hitchcock Museum Shop:
Bad News for Outlaws: The Remarkable Life of Bass Reeves, Deputy U.S. Marshal
Let 'er Buck! George Fletcher, the People's Champion – the story of a spirited African American cowboy and bronco buster and his role in the controversial 1911 Pendleton Round-Up saddle bronc competition
Micheaux Nelson's love of history and family is reflected in many of her award-winning books. She has received numerous accolades, including the Coretta Scott King Author Award and the Boston Globe-Horn Book Award for Fiction. You and your family are invited to learn more about Micheaux Nelson's journey as a storyteller and writer. Meet her in person Saturday, February 29.
Reservations are required and regular museum admission applies; free for members. Reserve your spot online, then pay when you arrive at the event. (Select the burgundy ticket icon above to register. Please note: your online reservation is not complete until you've clicked the "Check Out" button.)
Have questions? Call 402-444-5071 or email reservations@DurhamMuseum.org.
---
This public program is brought to you as a part of our Scholars in Residence program, which brings Ms. Nelson to Omaha to visit area schools during Black History Month. Support for the Scholars in Residence program at The Durham Museum is generously provided by the Sunny Durham Family Foundation, Carol Gendler, Susan Beeghly and the A. Cydog Charitable Trust.
---
Make a day of it!
If you're visiting for Micheaux Nelson's presentation, be sure to check out other happenings at the museum on February 29, all of which are included with museum admission:
10AM-Noon – STEM Saturday
Celebrate our newest exhibition, Pulitzer Prize Photography, with an activity about the science and technology behind photographs.
1-3PM – Interactive Exhibit Programming
Visit the museum's Trans-Mississippi Centennial Gallery to learn about the 1898 Trans-Mississippi Exposition and its lasting impact on our city. A museum docent will be on hand to guide you and share educational objects that allow visitors a chance to interact with the exhibit.