James Cameron – CHALLENGING THE DEEP
01/17/20
James Cameron – CHALLENGING THE DEEP
Exhibit on display May 22 – October 3, 2021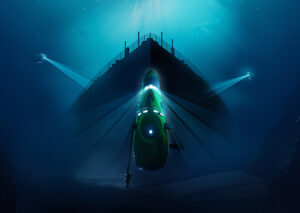 Join The Durham Museum in welcoming the North American Premiere of James Cameron– CHALLENGING THE DEEP! Immerse yourself in an underwater world in an exhibition that traces explorer and filmmaker James Cameron's passion for deep ocean science, technology and exploration, including material on his record-breaking dive to the bottom of the planet in the DEEPSEA CHALLENGER, the submersible he co-designed and co-engineered.
Experience how James Cameron's passion for understanding and exploring the ocean has shone a light on one of the most important and least explored parts of the Earth. The exhibition immerses you in an underwater environment using cinema-scale projections, artifacts and specimens from his expeditions. Explore the spectacular and mysterious abyss and discover the shipwrecks of Titanic and the German battleship Bismarck. See artifacts from the design and construction of the DEEPSEA CHALLENGER, which was built to withstand water pressure of 16,000 pounds per square inch.
Learn about how technologies pioneered by Cameron for underwater recording, lighting, communication and diving are employed both in his filmmaking and exploration. You'll also see original film props and costumes from The Abyss and Titanic, including the iconic Heart of the Ocean diamond. Discover the world of a man driven to explore and meet the challenges of the deep.
James Cameron — CHALLENGING THE DEEP is a traveling exhibition produced by the Australian National Maritime Museum, in association with the Avatar Alliance Foundation and is toured internationally by Flying Fish.