Allied Soldiers and Nazi Camps: Witnesses to the Holocaust
08/02/18
When:
January 29, 2019 @ 6:30 pm – 7:30 pm
2019-01-29T18:30:00-06:00
2019-01-29T19:30:00-06:00
Cost:
Included with Museum Admission (Free for Members!)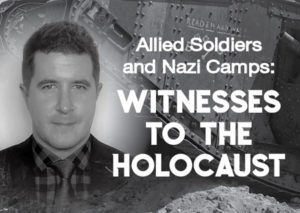 Witnessing the immediate aftermath of the Holocaust had a profound effect on the military forces that liberated Nazi camps. For many liberators there was a duty to help those in need mixed alongside the shock and horror of the scenes they witnessed. There was a desire to document what they experienced as liberators, combined with the struggle to locate suitable words and metaphors. This talk will consider the firsthand accounts of Allied military personnel as they responded to the situation at liberation.
Dr. Mark Celinscak is the Louis and Frances Blumkin Professor of Holocaust and Genocide Studies and the Executive Director of the Sam and Frances Fried Holocaust and Genocide Academy at the University of Nebraska at Omaha. He is a historian of twentieth century Britain and Europe, specializing in war, Holocaust and genocide studies. Dr. Celinscak is the author of the award-winning Distance from the Belsen Heap: Allied Forces and the Liberation of a Nazi Concentration Camp, a work which re-examines the surrender and relief of the Bergen-Belsen concentration camp in northwest Germany at the end of the Second World War.
Reservations are required and regular museum admission applies; free for members. Reserve your seat online, then pay when you arrive at the event. Have questions? Call 402-444-5071 or email reservations@DurhamMuseum.org.