After Promontory: 150 Years of Transcontinental Railroading
01/21/19
When:
June 14, 2019 @ 10:00 am – 5:00 pm
2019-06-14T10:00:00-05:00
2019-06-14T17:00:00-05:00
Where:
The Durham Museum
801 S 10th St
Omaha
NE 68108

Cost:
Exhibits are included with Regular Museum Admission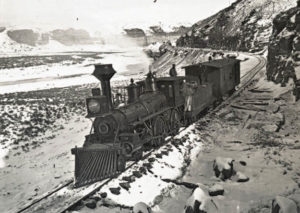 Exhibit on Display March 30 – July 28, 2019
On May 10, 1869, two railroads—built with haste, hope and aspiration—joined in a lonely, dry desert of northern Utah, at a place called Promontory. On that day, dignitaries from both companies—the Central Pacific, which had built from California, and the Union Pacific, which had built from the east—gave speeches and installed ceremonial last spikes.
The ceremonies were meant as a moment of self-congratulation, but the significance of the day's events was far broader. In the ensuing decades, railroad after railroad proposed new, competing transcontinental routes—and sometimes completed them. Their construction swept away the dominance of Native American tribes, ended the open range, and restructured the West into a network of resources and industries dependent upon clusters of urban centers.
To mark the 150th anniversary of the beginning of this era, the Center for Railroad Photography & Art has launched a special project, After Promontory: 150 Years of Transcontinental Railroading. The exhibition features period photographs by some of the most accomplished photographers in the nation's history, artists such as William Henry Jackson, Timothy H. O'Sullivan, and Carleton E. Watkins, but also recent photography from artists who explore the lasting impact railroads have had on the landscape. At stake in all of these images, both period and more contemporary, is not only the railroad as a subject, but how photographers of different eras, with different motivations and different sensibilities, have thought of the transcontinental railroads and their legacy. The Center for Railroad Photography & Art and The Durham Museum have collaborated to present this exhibition.