SOLD OUT – A Roll of the Dice: A Memoir of a Hungarian Survivor
01/15/18
When:
March 21, 2018 @ 6:30 pm – 8:30 pm
2018-03-21T18:30:00-05:00
2018-03-21T20:30:00-05:00
Where:
The Durham Museum
801 S. 10th Street
Cost:
Included with Museum Admission (Free for Members!)
Contact:
Reserve Your Seat Online (pay on arrival)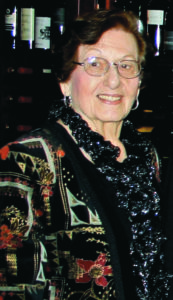 UPDATE 3/15/18 – This event is sold out.
A Roll of the Dice: A Memoir of a Hungarian Survivor
6:30pm Lecture, Book Signing to Follow
Born in Budapest July 24, 1933, Agnes Schwartz lived in a 'well to do' family as an only child growing up during the Second World War. Though her family was Jewish, Agnes attended a girls' Catholic school. When the Germans invaded Hungary in March 1944, deportations began in the rural areas. Agnes' grandparents sought relative safety by moving to Budapest. Soon her entire family was forced to wear the Yellow Star. They were moved from their apartment into a Jewish Designated Building (ghetto) and crammed into a dirty apartment. Agnes' father lost his business and she could no longer attend school. In November of 1944, a group of Nazi officers came to their building and took away men aged 18-45, including her father. Later in the month, the Nazis came and took away the women in that age group as well. When she was just 11 years old, the family's former maid (Julia Balazs) took Agnes in as her "niece" who was supposedly fleeing from the Russian army. Agnes changed her last name, learned the Rosary, and passed herself off as a Christian. During months of Allied bombings, she had to hide in an underground bunker. Agnes' grandmother, grandfather and aunt were drowned in the Danube. Her mother perished at Bergen-Belsen concentration camp. Her father was saved by Raoul Wallenberg, hidden in one of his safe houses. In January 1947, reunited, Agnes and her father left for Chicago. However, within a year he returned to Hungary, leaving Agnes in the care of an aunt. Agnes now lives in Skokie, IL, where she is an active volunteer with the Illinois Holocaust Museum. Her memoir, A Roll of the Dice, was published in 2011.
This program is presented in partnership with The Institute for Holocaust Education (IHE). IHE is a non-profit organization located in Omaha and serving Nebraska and the surrounding states. It's mission is to ensure that the tragedy and history of the Holocaust are remembered. The IHE provides educational resources, workshops, survivor testimony, and integrated arts programming to students, educators and the public.
Reservations are required and regular museum admission applies; free for members. Reserve your seat online, then pay when you arrive at the event. Have questions? Call 402-444-5071 or email reservations@DurhamMuseum.org.