A Regency of Style: Cultural Changes in 18th and 19th Century Europe
01/21/19
When:
June 14, 2019 @ 10:00 am – 5:00 pm
2019-06-14T10:00:00-05:00
2019-06-14T17:00:00-05:00
Where:
The Durham Museum
801 S 10th St
Omaha
NE 68108

Cost:
Exhibits are included with Regular Museum Admission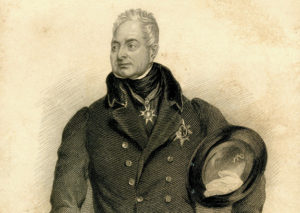 Now – July 21, 2019
This exhibition was developed by Durham Museum intern and University of Nebraska at Omaha graduate, Mallory Boyle.
The Regency Era (1795-1830) was a time when enlightenment thought provoked lifestyle and culture changes throughout Europe. The onset of the French Revolution resulted in clothing styles changing seemingly overnight. From having an aristocratic flair to favoring the masses, women's clothing was now tactful and practical, usually a skirt with jacket, or was inspired by classical Greco-Roman ideals, with high-waisted, natural figures in flowing fabrics. Men began wearing trousers and perfectly tailored, unadorned linen suits.
Technology and political shifts allowed people to use clothing as a form of individual expression rather than an indication of social status. Clothing choices now provided insight into both public identities and private selves. This night-and-day change sparked revolutionary thought and represented equality among people. Who would have thought clothing could be so political?
Photo: Portrait of William IV of England | 1765-1837 | The Byron Reed Collection | 25.6