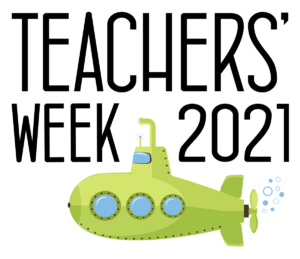 Teachers' Week 2021
September 27 – october 1
Join us as we take a deep dive into a week full of teacher appreciation and helpful resources for educators, including our 18th Annual Teachers' Night, where educators will get a chance to see James Cameron – CHALLENGING THE DEEP before it sets sail from The Durham Museum. This year features in-person events. We hope to SEA you at Teachers' Week 2021.

FREE • IN-person Events

Satellite Social Events
MCC NORTH EXPRESS 
Highlander Accelerator Building (third floor)
2112 N. 30th St., Omaha, NE 68111
We're bringing Teachers' Week out into the community! If you're not able to attend Teachers' Night on Friday evening, we're inviting teachers and educators to stop by one of two satellite social events, held at MCC North Express, which will include snacks, door prizes and additional activities. Teachers will still be able to register for Friday's event if they are attending the satellite social events too.
| | |
| --- | --- |
| Monday, September 27 from 4-6PM | Tuesday, September 28 from 4-6PM |
18th Annual Teachers' Night
Friday, October 1
The main event! Our 18th Annual Teachers' Night will definitely be the best one yet. We received rave reviews on last year's one-way path through the event, so we've decided to take that to next level. Get ready for a fun evening of food, drinks, resources, raffle prizes and food trucks. We will have numerous vendors ready to provide you with all the materials to make your classroom learning experience more exciting!
Similar to last year's event, the event will run from 4-7PM with timed entry and will be structured as a one-way path through the museum to ease any congestion and make for a safe environment for all attendees. If you plan to attend with another educator, please coordinate accordingly. At the end of the path, teachers will be greeted by food trucks on the museum's lower parking deck. Teachers will be able to purchase food until 8pm when the trucks close up shop. (We suggest bringing cash for the food trucks.)
We ask that each teacher register individually to ensure the accuracy of registrant information.
Please note this is an 21 and over, educator only event.
Registration is encouraged in advance of the event. This year's event will have timed ticket entry. On your registration page, please select "Other Times" to select your specific arrival time. The last arrival time will begin at 6PM to allow guests ample time to walk through the event.
Once you arrive during your selected time slot, you can stay for the remainder of Teachers' Night.
Select your arrival time:
(If your preferred time slot is sold out, please select another time slot.)

virtual events
Update 9/24 **THIS EVENT HAS BEEN CANCELLED**
Virtual Resources Fairs
September 29-30
It may be hard for educators to find time to talk to all of the amazing exhibitors at the Friday evening event, so we're creating virtual resource fairs to allow for more conversation (and to chat with teachers who can't attend on Friday!) Teachers will join a Zoom meeting, with the ability to jump from room to room and chat with organizations all over the city. Plus, teachers who attend the virtual resource fair will have the opportunity to earn additional raffle tickets and prizes. Each resource fair will have a different line-up of exhibitors so we encourage you to register for both if you can!