Teacher Workshops
All Durham Museum teacher workshops are provided at no cost to area educators, but registration is required. Call 402-444-5027 or click the button below to sign up!

Workshop Options
Fall Exhibition Teacher Workshop
September 11, 2018
5-6:30PM
The museum will host two incredible exhibitions this fall for teachers to see: Thomas D. Mangelsen: A Life in the Wild and Fighting for the Good Life: Nebraskan Memories of WWI. This workshop will show teachers both exhibitions, in addition to additional resources and a cocktail hour.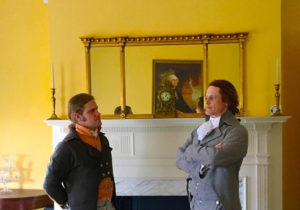 SPECIAL BONUS!  After the workshop, teachers are welcome to attend THOMAS JEFFERSON AND ALEXANDER HAMILTON: CONFLICT AND THE CONSTITUTION.  Alexander Hamilton and Thomas Jefferson Interpreters engage in a lively debate that exposes and explains the weaknesses of the Articles of Confederation and illuminates the impetus behind the move toward a Constitutional Congress and the resultant drafting of the Constitution.