Scholars in Residence
The Durham Scholars in Residence initiative is an educational outreach program developed to promote academic enrichment in area schools and community organizations for all age levels. The Durham Scholars in Residence program provides support to curriculum as well as current topics of local and national interest. The Durham is proud to help our community celebrate cultural heritage and history throughout the school year. Below are a few examples of these opportunities.

February: Black History Month
March: Women's History Month
April: Holocaust Remembrance Month
September: Hispanic Heritage Month/Constitution Day
November: Native American Heritage Month

For additional opportunities you can bring to your classroom, visit our Digital Learning page.
FEATURED PROGRAM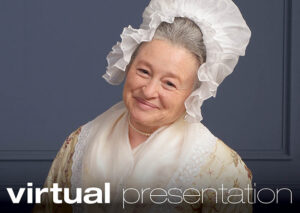 Scholars in Residence: Martha Washington, Portrayed by Carol Spacht
Martha Washington was raised from childhood to become the mistress of a Virginian plantation.  Her destiny changed when the 13 colonies of America declared their independence from Britain. As the wife of the commander-in-chief, Mrs. Washington was instrumental throughout the revolutionary war, joining her husband at the winter encampments. When duty called again and her husband was elected as President, she reluctantly created a new role as our "first"  first lady. In telling her own story, as well as recounting the stories of some other remarkable Revolutionary Women, Martha Washington provides a clearer understanding of the unique role women played in the building of our nation.

Support for The Scholars in Residence Program at The Durham is generously provided by:

---

Sunny Durham Family Foundation

Carol Gendler

Susan Beeghly

A. Cydog Charitable Trust
Questions? Contact the Education Department at 402-444-5027 or email education@DurhamMuseum.org.