Scholars in Residence
The Durham Scholars in Residence initiative is an educational outreach program developed to promote academic enrichment in area schools and community organizations for all age levels. The Durham Scholars in Residence program provides support to curriculum as well as current topics of local and national interest. The Durham is proud to help our community celebrate cultural heritage and history throughout the school year. Below are a few examples of these opportunities.

February: Black History Month
March: Women's History Month
April: Holocaust Remembrance Month
September: Hispanic Heritage Month/Constitution Day
November: Native American Heritage Month

For additional opportunities you can bring to your classroom, visit our Digital Learning page.
FEATURED PROGRAM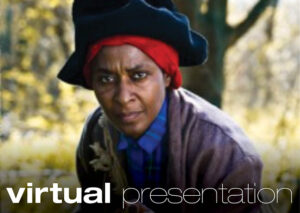 Scholars in Residence: Harriet Tubman, Portrayed by Dr. Daisy Century
The Durham Museum presents Harriet Tubman, portrayed by Dr. Daisy Century as our Scholar in Residence for the month of February. Unlike our typical assembly-style in-person format, this virtual presentation will allow more schools than ever before to participate. Performance will be followed by an in-character Q&A session. There is no cost to register for this presentation thanks to our generous sponsors!
Harriet Tubman couldn't read or write, suffered from epilepsy, was repeatedly threatened, beaten and starved, and emerged from these trials an ardent abolitionist, humanitarian and Union spy during the Civil War. Not content to find freedom herself, Ms. Tubman rescued others from their bondage through the Underground Railroad. After the Civil War, she was active in the struggle for women's suffrage.
Harriet Tubman shows us a woman unstopped by almost insurmountable obstacles. Audience members learn how to "walk soft" in the woods as they journey to freedom and sing "Go down, Moses," a doubly potent message since one of Ms. Tubman's nicknames was "Moses." Joining us from American Historical Theatre in Philadelphia, Daisy Century captures the intensity of Tubman's faith and the depth of her passion for freedom – for herself and for all who were oppressed. She takes her audience on Tubman's remarkable journey through the underground railroad – from Slavery to Freedom! Daisy shares Harriet's commitment and makes accessible the enormity of Harriet Tubman's contribution.
SELECT DATE TO REGISTER ONLINE:



Support for The Scholars in Residence Program at The Durham is generously provided by:

---

Sunny Durham Family Foundation

Carol Gendler

Susan Beeghly

A. Cydog Charitable Trust
Questions? Contact the Education Department at 402-444-5027 or email education@DurhamMuseum.org.