Dinosaur Revolution
May 28 – September 4, 2022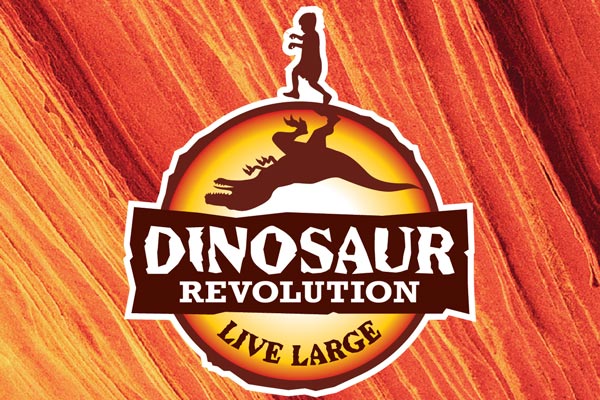 Uncover the facts and fossils about dinosaurs in Dinosaur Revolution as you LIVE LARGE in reptilian role-play activities, undertake three Mesozoic Missions spanning 150 million years and mimic dinosaur behavior. Become a junior paleontologist and find evidence of your dinosaur doings and learn why dinosaurs are one of the most successful survivors in earth's history.
Did T-Rex live closer in time to Apatosaurus or your mom? Were dinosaurs warm-blooded? Driven by questions and answers, Dinosaur Revolution challenges visitor knowledge, presents cutting-edge discoveries, and debunks popular myths. Travel through time and get a dinosaur's eye view! Experience what it's like to crush the earth beneath your gigantic feet as you Make Tracks in the Triassic. Learn to fly as you Glide through the Jurassic. Return to the present day, earn your Jr. Paleontologist credentials and engage in the most current dino-debates. Testify in T-Rex's defense, save the natural history museum from an expensive fossil hoax, and scale a wall of mysteries as you Climb Through Time.
Created by Minotaur Mazes, Dinosaur Revolution blends learning and play inviting visitors to investigate all things dinosaur…ultimately unearthing a shocking discovery: dinosaurs may not be extinct!
"Dinosaur Revolution" Exhibit Programming
Enjoy a special presentation by Dinosaur Ranger Anthony, from Stomp Chomp Roar, on the first and third Fossil Fridays of each month or book a birthday with him as a special guest!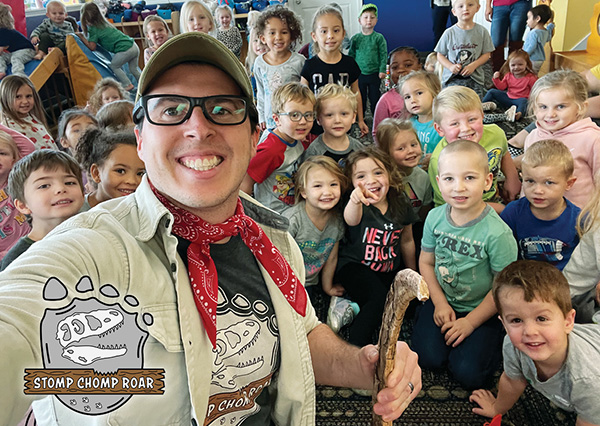 Book your Dino-mite Birthday Party!
Schedule your child's dinosaur-themed birthday party at The Durham complete with special guest Dinosaur Ranger Anthony, from Stomp Chomp Roar!
Supported Locally by

---

Parker Family Foundation

Verhalen Family Foundation

Media Support By
Nelson Mandela:
The Official Exhibition

NOW – july 3, 2022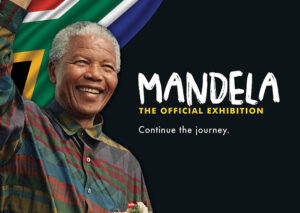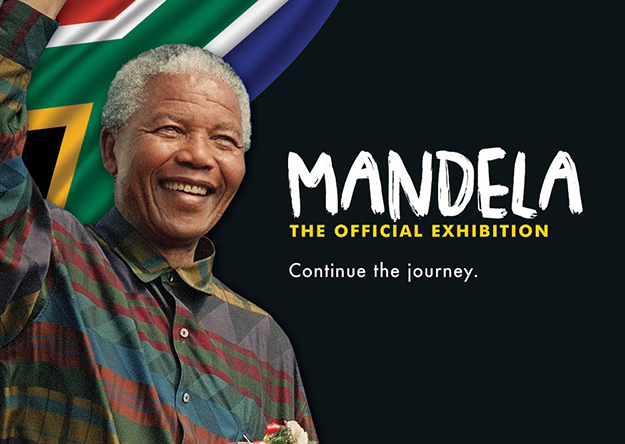 "It is easy to break down and destroy. The heroes are those who make peace and build." – Nelson Mandela
Nelson Mandela: The Official Exhibition is the major new global touring exhibition that takes visitors on a personal journey through the life of the world's most iconic freedom fighter and political leader. Presented in association with Round Room Live, the exhibition is an immersive and interactive experience that features previously unseen film, photos and the display of over 150 historical artifacts and personal effects on loan from the Mandela family, museums and archives worldwide.
Nelson Mandela: The Official Exhibition is designed to educate, entertain and inspire using many personal belongings and objects never previously seen outside of South Africa. These items, including the suit worn for the opening of the South African parliament in 1996; a traditional head dress gifted to him by The King of Xhosa people, King Xolilzwe Sigcawu as he awarded Mandela the ancient tribal warrior honour of the Isithwalandwe Sesizwe, for the first time in two centuries; his presidential desk and chair and his much loved iconic beige trench coat, combine with immersive media presentations and scenic re-creations, to enable visitors to actively engage with and experience key moments in Nelson Mandela's life.
Lawyer. Revolutionary. Political prisoner. World leader. Elder statesman. Symbol of the struggle against oppression. Nelson Mandela has been all these things to so many people across the world in the past 50 years and years after his passing, he continues to remain a human rights icon and to be seen globally as an advocate for change.
This exhibit is produced by Round Room Live in partnership with The Royal House of Mandela (RHoM) and RHoM Investments
Community Conversation Gallery
Our Community Conversation Gallery provides a space to allow visitors to engage with the Mandela exhibition while reflecting on its themes and connections to the present. To encourage contemplation, the room features public art produced during the 2020 protests against social injustice. Two large-scale boards feature quotes from Nina Simone and Martin Luther King, Jr. They join a pair of images, known as 'Hope', to connect stories of modern protest to those seen within the Mandela exhibition. Along with these pieces there are opportunities to participate in feedback and sit to discuss together the impacts of Mandela today.
My mandela moment
Nelson Mandela's values and commitment to making the world a better place are just as vital now as they were during his lifetime. In a series of blog posts we are calling "My Mandela Moment," members of our Nelson Mandela Exhibition Advisory Committee share personal reflections on how they have been impacted and inspired by Nelson Mandela. We hope you enjoy these personal stories.
Nelson Mandela Exhibit Advisory Committee
Mia Phifer
America's Black Holocaust Museum
Marcus Bell
100 Black Men of Omaha
Quincy Christian
Cox Communications
Wayne Brown
Urban League of Nebraska
Cydney Key
America's Black Holocaust Museum
Franklin Thompson
City of Omaha
Tena Hahn-Rodriquez
Inclusive Communities
Jade Rogers
Afros, Capes, and Curls
Eric Ewing
Great Plains Black History Museum
Kent Day
Civic Nebraska
Lisa Pieper
Milwaukee Public Museum
Dr. Joseph Akpan
University of Nebraska Omaha
Reverend Michael Williams
NAACP- Omaha Chapter
Peter Edwards
Conagra Brands
Kwin Kunkle
Nelson Mandela Elementary School
Ada Wilson
Nebraska Medicine
ADMISSION
Adults: $13*
Seniors (62+): $10*
Military/Veteran: $10*
Children (ages 3 – 12): $7*
*PLUS TAX
Children 2 years and under FREE
Members: FREE!
Advance reservations are encouraged, but walk-ins are welcome.
Members, your free admission discount is applied near the end of the online registration process.

Education Alley
Theater Row: Stage and Screen in Early 20
th

Century Omaha
now – January 29, 2023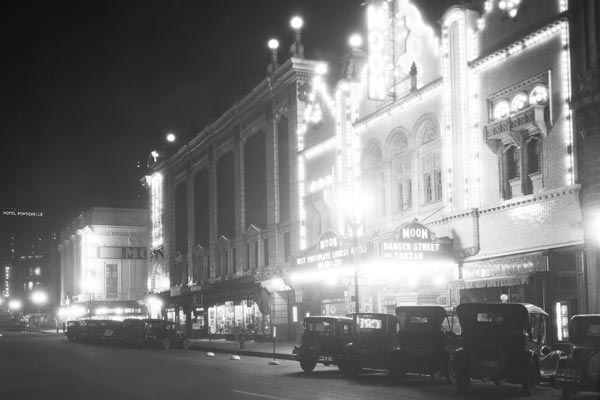 During the first half of the 20th century, along Douglas Street between 14th and 16th, was a boom of theater houses whose development tells a story of the evolution of stage to screen. This exhibit highlights four giants of early theater houses in Omaha that gave this area a name of 'theater row.' The focus of this exhibit are the architectural giants of The Empress, The Moon, The Rialto and The World Theater. Using photographs and objects from the museum's collection, each theater tells a story tied to the growth of Omaha and the development of the theater industry from its earliest connections to vaudevillian stage acts to the more modern films of today. Like shows of old, stories presented will shock, fascinate and enthrall.
Photo Archive
On the Homefront: Nebraska and WWII

now – December 31, 2022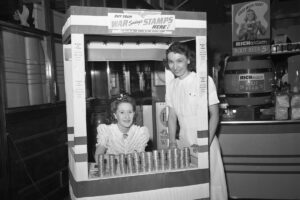 This exhibition was developed by Durham Museum Intern and Creighton University graduate Mallory Cranwell.
This exhibit is curated using nine photographs from the Photo Archive to tell a story of how people in Omaha reacted to World War II. Like cities around the country, Omahans channeled their industries and energy into helping the national war effort. Immediately following the attack on Pearl Harbor, they enlisted to fight, organized bond drives, practiced rationing, grew victory gardens and collected scrap metal. Along with the celebratory coming together of a community there was also division, as one image relates the story of Reverend Kano who was jailed and sent to a Japanese internment camp. Each photograph presents a snapshot of a moment in time and how Omaha reflected the emotions and movements of a nation at war.
Photo: Selling War Bonds, July 1942, John Savage/Omaha World-Herald Collection, JS42D(1)-080
Byron Reed
A Gentleman's Collection:
Highlights from the Byron Reed Vault

now – October 2
A collection can provide insight into the passions and interests of the collector, and the time in which they lived. A Gentleman's Collection focuses on one such collector, Byron Reed. On display are ticket stubs to local concerts and pamphlets from social functions he attended, as well as books on subjects ranging from astronomy to the complete history of the United States. In his collection are the rare and unique but also the mundane, everyday artifacts of his daily life. By examining these items, this exhibit attempts to illustrate a story about who Byron Reed was based on what he thought important to keep.
This exhibition was developed by Durham Museum Intern and Creighton University graduate, Thomas Haggstrom.
Image: Order of Dancing for a Ball, 1850, The Byron Reed Collection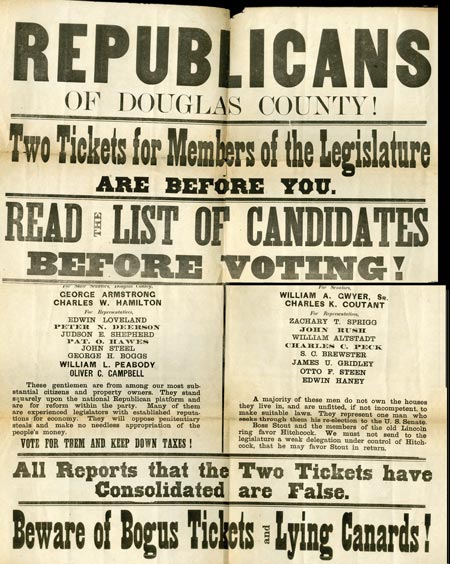 Political Practices:
The Uses of Broadsides as Propaganda

now – October 2
On display in Political Practices are four examples of political propaganda from the 1800s housed in the Byron Reed collection. The word propaganda means information given in support of a cause, candidate or campaign. What words attract attention? How is information presented? This exhibit explores the language of propaganda to show universal traits that may draw a line of similarities between modern and historical methods.
This exhibition was developed by Durham Museum Intern and University of Nebraska at Omaha graduate, Mary Jo Rasmussen.
Image: Election Poster for Douglas County, Nebraska, 1860, The Byron Reed Collection