Billie holiday at sugar hill: photographs by jerry dantzic

NOW – february 27, 2022
In April 1957, photojournalist Jerry Dantzic gained special access to Billie Holiday during a week-long run of performances at the Newark, New Jersey, nightclub, Sugar Hill. What unfolded was an unexpected and intimate journey into her private and public worlds. Dantzic's photographs reveal the warmth, complexity, elegance, star power and full humanity of this consummate jazz and blues artist. His discreet, respectful, artful approach, using only available light, helped forge a bond of trust—and gave him unprecedented access to his subject. The result is a series of remarkable images that challenge the tragic narrative that frequently defines Billie Holiday. Billie Holiday's passion and originality come through in every song she sang—and are forever immortalized in these rare, spectacular photos.
Billie Holiday at Sugar Hill: Photographs by Jerry Dantzic is organized by the Smithsonian Institution Traveling Exhibition Service in cooperation with the Jerry Dantzic Archives.
The Durham Museum is a proud Smithsonian Affiliate.

| | |
| --- | --- |
| Exhibit Sponsored by | Media Support Provided by |
A Territory of Sound: African American Jazz Orchestras in Early 20th Century Omaha

NOW – February 27, 2022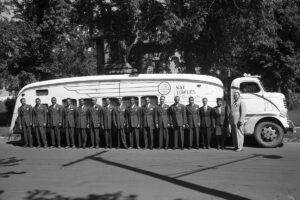 Omaha served as an important steppingstone in the careers of many jazz musicians in the early half of the 20th century. Local acts, like Nat Towles' Orchestra, toured around the Midwest while major acts like Duke Ellington and Count Basie came to town to play and often left with new backing musicians hired straight from local orchestras. This exhibit showcases a few of those stories with a focus on the impact of musicians in territory bands and their roles in supporting the growth of jazz in Omaha and throughout the country.
This exhibition was developed by Durham Museum Intern and University of Nebraska – Omaha student, Cory Starman.
Photo: Nat Towles Orchestra and their Sleeper Bus,
September 1940, The Durham Museum Photo Archive BF5645-006
ADMISSION
Adults: $11.00
Seniors (62+): $8.00
Children (ages 3 – 12): $7.00
Children 2 years and under FREE
Members: FREE!
Advance reservations are encouraged. Members, your free admission discount is applied near the end of the online registration process.
Need help with your reservation or ticket purchase? Watch our "How To" video or view PDF Instructions.
40 chances: finding hope in a hungry world

now – January 30, 2022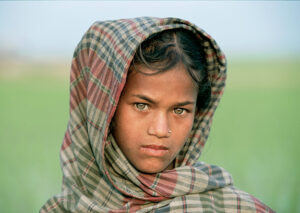 In this powerful exhibit featuring the photography of Howard G. Buffett, 40 photographs document the world hunger crisis as part of a global awareness campaign. Traveling to more than 137 countries, Buffett turned his camera lens on the powerful forces that fuel hunger and poverty. A philanthropist and farmer, Buffett believes that each of us has about 40 chances to accomplish our life goals, just as farmers have about 40 growing seasons to improve their harvests. His photography is a call to action to find lasting solutions to the world hunger crisis.
"40 CHANCES: Finding Hope in a Hungry World" was developed by the Newseum in collaboration with Howard G. Buffett Foundation. The Newseum is an affiliate of the Freedom Forum, whose mission is to foster First Amendment freedoms for all. 
| | |
| --- | --- |
| The Howard G. Buffett Foundation is the exclusive sponsor of the "40 CHANCES: Finding Hope in a Hungry World" exhibit. | Media Support Provided by |
---
Make an Impact when you Visit!

October 30, 2021 – January 30, 2022

You can help fight hunger in our community and assist those in greatest need when you visit The Durham Museum! Throughout the run of 40 CHANCES, you can drop off non-perishable food items at The Durham to help support the Food Bank for the Heartland. Just look for the big blue barrel near the admission desk.
---
Exhibit Programming

Education Alley
Beyond the Vote

NOW – january 30, 2022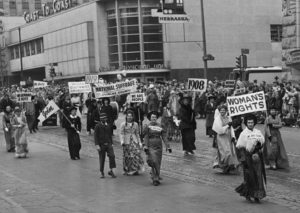 Over 100 years ago, women got the right to vote. The Durham is pleased to present a unique exhibition experience exploring the lasting impact of the 19th Amendment. Beyond the Vote blends iconic images of the past from our partners at the Smithsonian Institution and Library of Congress with original contemporary artwork created by five local artists. The exhibit explores the themes at the heart of the suffrage movement—both for and against—and how those same themes about a woman's place in the world continue to resonate today.
Photo: 1954, John Savage/Omaha-World Herald Collection | The Durham Museum Photo Archive | JS13-045
Featured Artists
Select each artist to learn about them and their exhibit piece.

A

riel Panowicz
Celeste Butler
Nancy Friedemann – Sánchez
Renee' A. Ledesma
Sophie Newell
Byron Reed Collection
Beyond the Mysticism: Alchemy's Descent into Modern Medicine and Science

NOW – March 6, 2022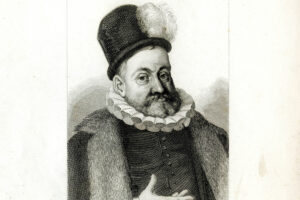 Alchemy traces its roots back to ancient Egypt, but it is still alive today. A common part of life from the 13th century to the early parts of the 19th century, alchemy was both supported and feared by royals in Europe. With alchemy's decline, practitioners started focusing their efforts into areas of medicine and science, developing theories, tools and techniques that are still in use today. Using objects and documents from the Byron Reed Collection and The Durham Museum's permanent collection, this exhibit details both the support and opposition of various European monarchs and how their actions influenced the science and medicine we see today.
This exhibition was developed by Durham Museum Intern and University of Montana Ph.D. student, Micaela Connolly.
Photo: Portrait of Rudolph II, Holy Roman Emperor, (1576-1612), The Byron Reed Collection, 34.5 A
Byron Reed Collection
It's All in the Family: Positioning Power in the Napoleonic Age

NOW – March 6, 2022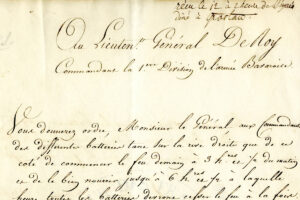 This exhibit examines the lives of four of Napoleon Bonaparte's closest relatives and how they reached positions of power during his reign as emperor of France. Napoleon made his political appointments based on ability and merit, although, he did not always follow his own guidelines when it came to promotions. As Emperor, Napoleon wished to create a new royal dynasty with his family at the center. However, many of Napoleon's family members did not possess the same political prowess as he did and did not have as much success in their posts. One document featured in the display was written by Napoleon's older brother Joseph, who he made King of Naples in 1806. It is one of four letters from the Byron Reed Collection that are on display in this exhibition and written by relatives given political appointments during Napoleon's reign.
This exhibit was created by Durham Museum Intern and University of Nebraska-Lincoln graduate Anthony Tafolla.
Photo: Letter from Joseph Bonaparte, c.1800s, The Byron Reed Collection, 30.1
Photo Archive
On the Homefront: Nebraska and WWII


now – December 31, 2022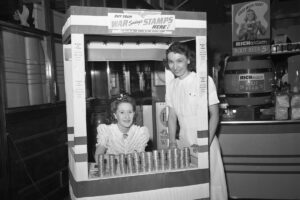 This exhibition was developed by Durham Museum Intern and Creighton University graduate Mallory Cranwell.
This exhibit is curated using nine photographs from the Photo Archive to tell a story of how people in Omaha reacted to World War II. Like cities around the country, Omahans channeled their industries and energy into helping the national war effort. Immediately following the attack on Pearl Harbor, they enlisted to fight, organized bond drives, practiced rationing, grew victory gardens and collected scrap metal. Along with the celebratory coming together of a community there was also division, as one image relates the story of Reverend Kano who was jailed and sent to a Japanese internment camp. Each photograph presents a snapshot of a moment in time and how Omaha reflected the emotions and movements of a nation at war.
Photo: Selling War Bonds, July 1942, John Savage/Omaha World-Herald Collection, JS42D(1)-080