Back by Popular Demand!
06/29/18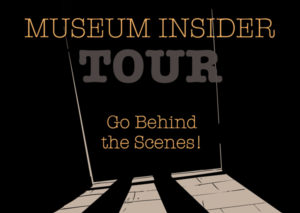 Back by popular demand…Go behind closed doors for a one-of-a–kind tour experience at The Durham Museum! Don white gloves and your own "All-Access" badge and join our curators as we take you to places you have never seen before. The first-ever "Museum Insider" tours sold-out immediately when the program launched this past March. New tours have since been added to accommodate the overwhelming response. The program was developed by Museum Curators to show-off The Durham's amazing, but rarely seen, collection vaults! Tours are $20 for members and $25 for non-members. Membership discount applies to those in the household. Advance registration and payment are required. Space is limited! Register online at DurhamMuseum.org, email education@DurhamMuseum.org or call us at 402-444-5027. Join us for one (or both!) of these tours:
Omaha Originals: A Look at Early Omaha
Saturday, August 25, 2018
10:30AM – 12:00PM
Omaha has a rich history going back all the way to the mid-1800s. On this tour you'll set foot in all three storage areas for collections at The Durham – Photo Archive, Collection Storage and the Byron Reed Vault – as we explore some of the older treasures of the museum. You'll find out which Presidents owned land in Omaha (and some of the scandals that created), how and why the Aksarben coronations were held and what people wore to them, where were the first electric lights in the city turned on and who did it, what did turn of the 20th century Omahans do for fun, and many other fun facts about your city all illustrated through objects and images from the time. This tour will also have a special takeaway for our guests at the end of the tour. It's a can't miss experience!
Collection Storage 2.0
Saturday, September 29, 2018
10:30AM – 12:00PM
If you joined us for our previous "Basement" tour of the museum in May, we promise you'll see and hear brand new content as we explore rooms filled to the brim with Omaha treasures from The Durham's permanent collection. You'll see first-hand technology from Omaha's first radio station, an eclectic key collection from around the world amassed by museum benefactor Charles W. Durham, chandeliers from the Blackstone hotel, original fashion drawings from Brandeis department store, an iron lung from Children's Hospital, and much, much more!